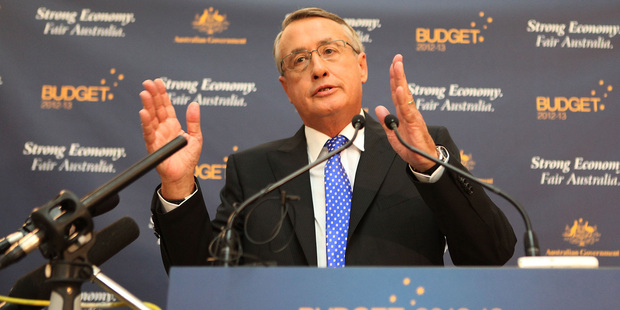 Surrounded by the carnage of A$33 billion in spending cuts and deferments, Treasurer Wayne Swan will today begin the job of selling his budget to a sceptical Australia.
Accused by the Opposition of "fiddling the books" even before revealing his strategy to parliament last night, Swan has promised to deliver a A$1.5 billion surplus in 2012-13, with more to follow.
"The deficit years of the global recession are behind us," he said.
"The surplus years are here."
Swan is marketing Australia as a nation of strength and resilience "walking tall" in a less robust world, while returning to Labor roots by using projected net annual revenues of A$3 billion - and rising - from the new resources rental tax to spread the benefits of the mining boom.
While hewing into government programmes, the public service, defence, and the wealthy, Swan freed more than one million workers from paying income tax by trebling the tax-free threshold to A$18,000, cut taxes for others, lifted a range of benefits and announced new family payments.
He also announced the first stage of a national disability insurance scheme, a dental programme for the low-paid, boosts for hospitals and aged care services, and increased spending on roads and rail.
Swan has economic and political need to succeed in his sales pitch.
Commentators and some senior business leaders have warned that insistence on a surplus could rebound on the economy.
Politically, the Government survives on a wafer-thin majority, with polls pointing to a landslide defeat at next year's election and renewed rumblings about the leadership of Prime Minister Julia Gillard.
The budget also comes amid plummeting revenue - down a projected A$24 billion in the coming year and A$150 billion over the five years since the global financial crisis.
Budget forecasts predict economic growth of 3.5 per cent in 2012-13, slowing to 3 per cent the following year, with unemployment of 5.5 per cent for the next 24 months.
The Treasury also expects modest growth in consumer spending, little recovery in the housing market, subdued business investment outside the resources sector and sliding terms of trade over the next two years.
Swan announced spending cuts of A$33.6 billion, including reductions in the defence budget, clampdowns and cutbacks in welfare and pharmaceutical programmes, and a 4 per cent pruning in the public service.
But small businesses will be allowed to claim losses of up to A$1 million against tax they have paid in the previous two years. Swan announced new annual lump sum allowances of up to A$350 for struggling families, and a means-tested "schoolkids bonus" of A$410 for every primary school pupil and A$820 for secondary students.
"Ours is a country where people who work hard should get fairly rewarded," he said.