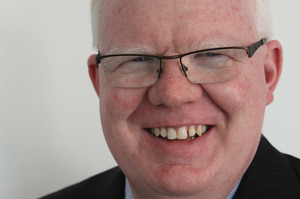 The new head of the NZX says we should be tapping the pool of Asian investors, Tamsyn Parker reports
New NZX chief executive Tim Bennett wants to use his experience in Asia to encourage investment into New Zealand's listed companies and its dairy futures market.
Bennett, who took over the top job on Monday, has just returned from 14 years of living in Asia, most recently in Singapore. He says when you talk about New Zealand in Asia people either think about tourism - or the more sophisticated investors say "where can I buy a dairy farm?".
Bennett says New Zealand should tap into the growing pool of money in Asia and provide agricultural investment opportunities for them on the stock exchange.
The acquisition of the Crafar farms by Chinese buyers has not been met with favour in New Zealand but he believes it is different when it comes to listed companies."I think the Crafar farms are slightly different than foreign ownership of listed companies.
Many listed companies here already have foreign investors. We need to build a platform of agricultural investments where investors can come into those companies."
Bennett says New Zealand has an open economy and our companies and businesses will always have a need for capital. "I am not suggesting Asians should own our companies but they are an important source of capital. Asia is critical when it comes to exports from the agriculture sector."
He says the key to attracting money from the region is to take a targeted approach."New Zealand needs to think about Asian investors like traders - they have a huge range of opportunities come across their desks from all over Asia every day. "We really need - if we are going to promote New Zealand as an investment opportunity - to realise we are one of a number of opportunities they see every day."
He will also focus on building up the NZX's existing businesses and looking at ways to encourage companies to list.
One step the company is considering is a new platform with a lower disclosure barrier.
Bennett says there a number of small companies that have done well by listing on the NZX - Xero, Diligent and BurgerFuel to name a few. But the structure of the main board makes it difficult for many others. "Some of the disclosure requirements they may see as an impediment to listing. There are also a set of benefits and costs that need to be more clearly communicated to businesses."
He is keen to work on ways to encourage New Zealand investors into the sharemarket either as returning investors or first-time buyers with the upcoming partial asset sales of state-owned enterprises and Fonterra's Trading Among Farmers share scheme. "We will see a resurgence in the equities market as a result of the mixed ownership model but it is not a silver bullet. We will be working with Treasury and the Financial Literacy and Retirement Income Commission to improve that. But we are not going to do that by November."
Bennett says two things made him take up the job at the NZX. "It is a terrific opportunity in terms of the role. Also like a lot of other New Zealanders I want give something back."
He says he has been a handed a terrific set of businesses. "I see my role as two-fold - support the capital opportunities that we hope will come to market at the end of the year. Those are important - not just for the NZX but for the wider New Zealand economy, and to deliver on the foundations that are already in place."
Though the focus will be on growing organically Bennett says undoubtedly there will be acquisition opportunities as well.
* Tamsyn Parker is a Herald business reporter