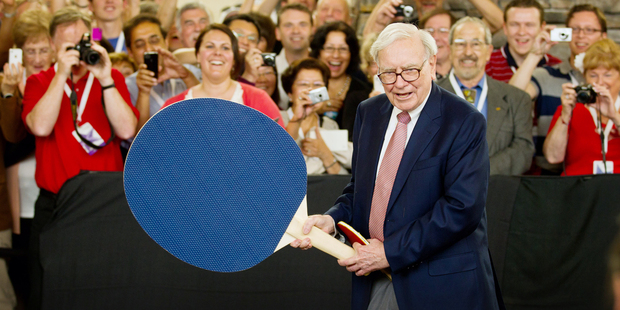 The Sage of Omaha speaks to 30,000 investors. Stephen Foley was there.
It is a hard message to deliver to a crowd of more than 30,000 people who have travelled from across the world to hear you speak, but Warren Buffett hammered it home loud and clear at his company's annual shareholder meeting this year: Berkshire Hathaway is not all about me.
The organisers of the meeting that they call "the Woodstock of Capitalism" made a concerted effort to push the focus on to the minutiae of Berkshire's many subsidiary companies, and away from Buffett, even as shareholders demanded his views on investment topics ranging from the eurozone crisis to the best way to avoid making mistakes as a start-up entrepreneur in Silicon Valley.
Ever willing to live up to his nickname as the Sage of Omaha, Buffett answered their questions thoroughly, but a change to the structure of the shareholder meeting, held on Saturday, made for a different tone than in previous years.
For the first time he took one-third of the questions from a panel of Wall St analysts who cover Berkshire shares, with only one-third from shareholders who queued at mic stands around the giant CenturyLink conference centre.
The final third were asked by financial journalists, from thousands of questions sent in by email.
Jay Gelb of Barclays, Gary Ransom of Dowling & Partners and Cliff Gallant of KBW put their focus squarely on Berkshire's insurance operations, which accounted for 25 per cent of the conglomerate's US$37 billion ($46.6 billion) of revenue in the first quarter.
Berkshire owns General Re, one of the world's biggest reinsurers, providing insurance for smaller insurance companies, and Geico, a popular US car insurance firm advertised on TV by an animated gecko with an English accent.
Other major subsidiaries, including MidAmerican, a power company, and Burlington Northern, one of the biggest railways in the US, also featured prominently, along with the dozens of other subsidiaries, from homebuilders to clothing makers to chocolate shops, who peddled their wares outside the auditorium at a Berkshire trade show.
Buffett has created one of the top 10 biggest companies in the US, equal in market capitalisation to that other famed conglomerate, General Electric, and the talk here over the weekend - as every year - was whether the company can continue in one piece after its architect is gone.
The issue had added piquancy because this was the first meeting since Buffett, 81, announced he will soon undergo treatment for prostate cancer.
A successor to Buffett has already been identified by the Berkshire board, though the name remains a secret. A corporate philosophy that gives considerable autonomy to the managers of the subsidiary companies will endure, it was claimed from the podium.
As well as confirming that the next chief executive will be a man, Buffet also said it won't be someone with a liberal arts degree, since investment decisions will need to be mathematically based.
And he gave new details of two previously obscure hedge fund managers hired by Berkshire to manage some of its investment portfolio, both of whom are likely to have significant roles under the next chief executive. Todd Combs and Ted Weschler were given an additional US$1 billion apiece at the end of March, so they both now run US$2.75 billion. Buffett also revealed the two men were paid US$1 million a year plus 10 per cent of their investment gains.
The meeting opened with a video of comedy sketches and continued with a blizzard of one-liners from Buffett and his sidekick and vice-chairman Charlie Munger, as they answered questions for almost six hours. This year, they added cancer to the list of topics for their jokes.
"I rather resent all this attention that Warren is getting," said Munger. "I probably have more prostate cancer than he does. I don't know because I don't go and get a test for it. But I want the sympathy."
Buffett predicted he was more likely to "get shot by a jealous husband" than to die from a common and unthreatening early-stage prostate cancer, and that he was getting the best possible care from his four doctors, "at least two of whom own Berkshire shares".
Buffett said he expected to bequeath his successor a company committed to staying so conservatively funded that it would not go broke even "if the Federal Reserve were hit by a nuclear bomb".
- INDEPENDENT