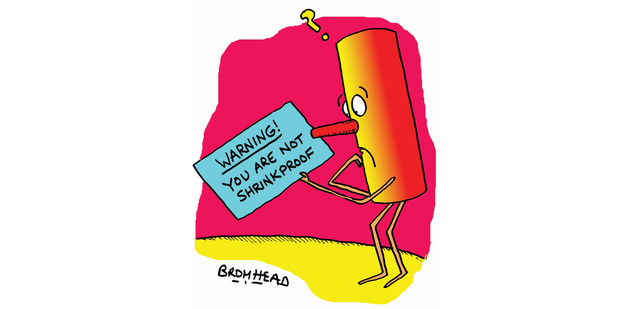 When the caregiver found a jokey old photo of me showering with team buddies after a tennis tournament, she smirked in a knowing manner. "Mm ..." she said, "you were well-endowed back then."
"What do you mean, were well-endowed?" I spluttered defensively.
"Well ..." she continued diplomatically, "time does play havoc with our bodies and a little shrinkage is, I suppose, ... perfectly normal." With another birthday looming, I don't need reminding about anything shrinking. I immediately went into damage control by changing the subject.
"Would you like a hot chocolate, dear?" I suggested in my gruffest, most manly voice.
The next day I met an old newspaper mate and we reminisced over industry events.
At one stage we were scratching our heads trying to remember names but - after the usual umming and ahhing - we gave up.
My mate gloomily concluded, "trouble is, our brain cells are shrinking, probably from drinking too much alcohol".
There it was again, that chilling term: "Shrinkage."
Arriving back in my office in a fit of melancholia, I decided it was time to make a solemn, statement to the world via Facebook.
I wrote cryptically: "Everything shrinks before it dies."
Unfortunately, my maudlin cry into the electronic wilderness followed hard on the heels of other observations about newspapers contemplating changing from broadsheet to tabloid format.
I immediately started receiving messages from fellow hacks, congratulating me on my acute observation on the industry.
This is slightly embarrassing. I'm unsure whether I should correct my Facebook statement and respond to the swags of emails I received, by lamely admitting that I was really concerned with the size of my diminishing anatomical appendages, rather than the problems of broadsheets becoming smaller, or should I just continue to bask in the glory of appearing to be a wise old media guru?
It's logical for newspapers to go tabloid, providing content doesn't suffer. The problem with the term "tabloid" is the idea that it represents all that is puerile in reportage, and many readers and journalists will be apprehensive that such a format is the trap-door leading to a trough where a newspaper's most prized possession, credibility, ends up covered in cheesecake.
We'll revisit this interesting subject some time, when newspapers inevitably slip from tabloid to tablet - if I'm still around and haven't shrunk too much.