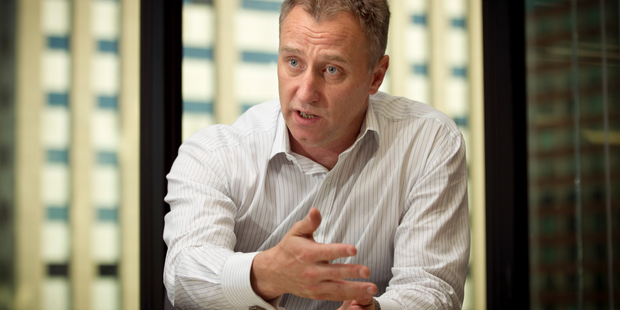 Mark Weldon nearly quit the job as the boss of New Zealand's stock exchange just two weeks into it but 10 years later he feels it is finally the right time to move on.
A former Olympic swimmer Weldon joined the NZX in June 2002 after 10 years as a corporate high flyer in New York.
Just 34 years old at the time Weldon says he felt a combination of excitement and terror at being appointed to the top job.
"After a week it was less excitement and even more terror."
He remembers walking down the end of a hall in the rabbit warren of an office to find a bunch of IT workers in a room trying to buy a router on Ebay to help develop squirrel mail because they didn't trust Microsoft products.
There were Megadeth posters on the wall.
That combined with being put up in accommodation which he describes as a dark, former shoe warehouse converted into a three-level five-bedroom apartment - in which he was the only resident - didn't endear him to the job.
"At the end of two weeks I did sit down and look at it analytically with a piece of paper to carefully think about whether I had made a big mistake."
Weldon, whose last day at the NZX is tomorrow, says it was a mantra from his swimming days that made him stay. "Pain is temporary pride is forever. The flip side of every problem is that there is opportunity."
Much of what needed to be done at the beginning involved the IT side of the business and Weldon says he definitely wouldn't have taken the job if he had known that.
"It turns out IT is really interesting once you lose your fear of it - but it took years to do that."
Weldon says he took on a company that was fragile and had been asset stripped.
"The thing that I have been most satisfied with is going from being a very fragile organisation to being a strong one. It's far from perfect, there are still things to fix."
Under Weldon's tenure the company has faced ups and downs particularly with the advent of the global financial crisis.
"It made us think about how do we get through the next three years of the worst-case scenario. That led us to get into data, information and commodities."
In 2010 $6.5 billion in capital was raised on the market. "We became the fifth bank. Local investors really came to the party and supported local companies to get through."
The exchange has been criticised for not bringing more new companies into the market but Weldon says New Zealand has held its ground compared to the US market where listings have fallen by a third.
He says one of the biggest challenges has been knowing when to step away from the business.
"What I have tried to do is get the timing right for me personally and at the right time for the company to transition. There has been a lot of change and I really had an obligation to see all that hard work through."
Weldon says he knew it was time to move on from the job when he started to lose energy and hit the snooze button on his alarm clock - a previously unheard of move. "There is a point where tiredness becomes part of your permanent state."
But he will be looking closely to see how well the floats of the state-owned enterprises go. He says it is really important that Mighty River Power, the first one off the blocks is a success.
"If you go to a restaurant and have a crap meal you are not going to go back are you?"
So how does he feel about leaving the NZX behind?
"It feels really weird. It will feel weirder next week. It has been such a big part of my life. Most people associate me with the NZX. Mark Weldon NZX chief executive - it feels like it is part of my surname."
Wine and skiing on the agenda but not politics
Weldon is looking forward to spending time at his new Central Otago vineyard business and hitting the skifields but other than that he doesn't know what he will do in the future.
"I haven't interviewed for any job. I have received a good number of calls, particularly from overseas."
But Weldon wants to take the opportunity to stop and have a breather for a while. "I really haven't stopped working since May 1997."
He admits his future will probably lead to one of two choices - either going back into the corporate world with a big company or smaller private companies.
"I really won't know until I get a little bit of space. The only decision I have made is not to make a decision at the moment."
One area he has ruled out is politics. Weldon has been heavily involved in policy work during his time at the NZX and had been rumoured to run at last year's election.
"I understand the political environment. If I didn't understand what they do so well then I might have thought about it."
He says he has had enough of dealing with politics at the NZX.
He isn't ruling out going overseas but says he would prefer to stay here. "I've made some big investments emotionally here. In New York you can have a great life - amazing food and you can earn good money but in New Zealand ... there is a greater chance to have more of an impact."
Last year Weldon bought a vineyard business in central Otago under the Olssens brand. "It's a great piece of dirt for producing pinot noir."
Weldon will rebrand the company in late June under the name Terra Sancta meaning Holy Earth.
Buying the vineyard will be the first time he has put down roots by buying property. He has always rented in Wellington. He's already been speaking to his wine contacts to get tips.
"They say don't spend the first five years thinking about wine. It's all about distribution."