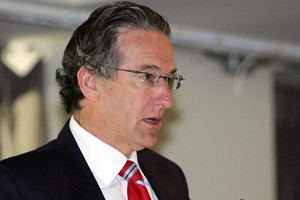 Ironbridge Capital has moved closer to the sale of EnviroWaste but is still working with banks on its two-month-old capital restructure of its biggest New Zealand asset, MediaWorks.
The restructuring would prevent a reverse takeover of the indebted broadcaster by private equity rival TPG, which bought 20 per cent of debt and is looking for more.
Yesterday Ironbridge said it had appointed Macquarie Capital to explore sale options for its waste management company, EnviroWaste.
Ironbridge has asked Macquarie to consider a trade sale or an initial public offering (IPO) after a three-horse race between investment banks Macquarie, First NZ and UBS as to which would advise Ironbridge on the sale.
A financial market source said Ironbridge - a Sydney-based private equity investment company - was looking at a transaction value of between $500 million and $600 million.
Ironbridge was more likely to lean towards a trade sale than an IPO because local institutions had in the past shown a reluctance to pay a full price for similar assets, the source said.
Macquarie has worked with Ironbridge regularly over the past few years.
EnviroWaste is chaired by Kim Ellis, the former chief executive of NZX-listed Waste Management before the company was taken over in 2006 by Australia's Transpacific Holdings.
Ironbridge paid $365 million in December 2006 for EnviroWaste but the company later sold an asset in Canterbury to its competitor, Transpacific.
EnviroWaste later invested in acquisitions which took the invested amount back to around $365 million.
Unlike last year's IPOs, which involved only partial selldowns and listings of companies such as Summerset Holdings and Trade Me, Ironbridge could be looking at offloading 100 per cent, a financial market source said last month.
EnviroWaste's assets include the Hampton Downs landfill.
Meanwhile, Ironbridge confirmed yesterday its restructuring plan for MediaWorks had still not been finalised, and it is understood that until it is TPG is lurking in the background.
On March 1, Ironbridge announced the deal, including a $50 million cash injection.
The deal would secure banker support for three years, wipe out second-tier debt and reduce interest by $20 million a year.
It would see Ironbridge pay off the $30 million remaining from a controversial $44 million, 50-month loan by the Crown - an arrangement which enabled MediaWorks to secure its radio frequencies during tough times after the global financial crisis.