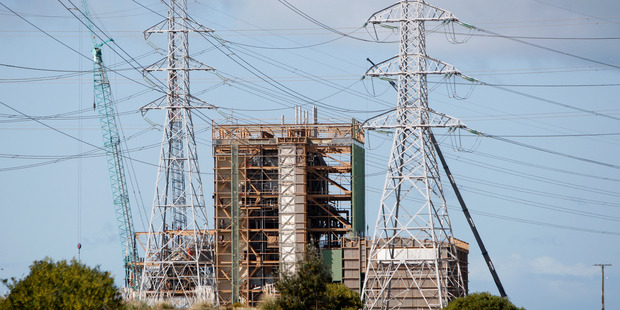 The dismantled Marsden B power station sits on a wharf at Marsden Pt after a High Court judge ordered it stay there while a legal stoush is resolved between a Northland engineering firm and an Indian telecommunications giant.
South Pacific Industrial Ltd (SPI) is taking United Telecoms Ltd (UTL) to court claiming the Indian company owes it $2.5 million after SPI's work on dismantling the mothballed power station took longer, and cost more, than anticipated because of the unexpected discovery of asbestos.
The High Court has put an injunction on UTL shipping the dismantled power station out of Whangarei until the legal dispute is settled.
UTL bought Marsden B power station from Mighty River Power in 2008, with the view of dismantling it to take to India to fire it up there. SPI won the contract to dismantle the plant and pack the component parts for shipping to India and started work in June 2011.
However, work stalled three days later when SPI discovered more asbestos than had been expected at the site.
After agreement between the two parties work continued, but a dispute arose as to the amount SPI should be paid for the additional work.
Some of the extra costs were paid by UTL, but SPI has lodged a claim for $2.5 million and last week Justice Heath put a freezing order on the company removing the dismantled station and ordered that it put $350,000 into its NZ Lawyers' trust account. The freezing order will be lifted if UTL can deposit $1 million into the trust account.
Justice Heath had initially declined to place a freezing order on UTL after one of the company's directors, a Rao, gave evidence that led the judge to believe UTL "appears to be a reputable company with substantial assets".
Rao had said the company had scrap metal worth several hundred thousand dollars from the dismantling, but new evidence showed this was not the case.
"The additional information provided [left] me with a greater sense of concern about Mr Rao's reliability, if not credibility," Justice Heath said.
The judge said Rao had left the impression that he was an experienced engineer, familiar with the type of disputes that could arise in contracts of the type reached between SPI and UTL.
"That impression proved incorrect," Justice Heath said.
He said Rao's later evidence was that he was a relatively "fresh graduate" having graduated in 2007.
Justice Heath found that while UTL had been prepared to pay amounts it accepts are owing under the contract, it was attempting to hinder SPI's prosecution of remaining claims in a manner designed to cause cost and delay to SPI.
"My view was that UTL regarded the remaining aspects of SPI's claims as unjustifiable and, if possible, wished to avoid the cost of defending them," the Justice said.
SPI managing director Ross McKenzie said: "The discovery of this asbestos caused serious delays and consequential cost. Agreement on these additional costs remains in dispute."
"The project is now complete and the site has been officially handed over.
"SPI accepts no liability in this matter and the court proceedings are to bring this matter to a conclusion."
SPI's claim will be heard in full by Justice Heath later this year.
- APNZ