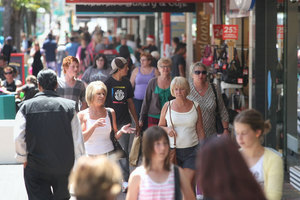 New Zealand business confidence continues to nudge higher, led by a sharp jump in the retail and services sectors, according to the latest National Bank Business Outlook survey.
A net 36 percent of respondents expect better times for the economy in the year ahead, up two points on March, while a net 36 percent of firms predict their own activity will improve, down 3 points on the month prior. That number remains over the historic average of net 26 percent.
Retail showed the largest lift in business confidence hitting a 23-month high, while the biggest loser was agriculture, where business sentiment and the outlook for activity, employment and profit all receding.
"You don't need to look any further than the disconnect between falling commodity prices and the elevated New Zealand dollar to identify the catalyst," said the bank's chief economist Cameron Bagrie. "The work-horses of the economy such as agriculture are not kicking on and are facing a persistently high currency despite falling commodity prices."
"This is not the stuff which export recoveries are made of," Bagrie said.
Export intentions did lift 2 points to 23 percent but remain well below the historic average of 32 percent.
Pricing intentions continued to fade, down 3 points to a net 19 percent. Inflation expectations remained unchanged at 2.8 percent after the Reserve Bank left the official cash rate unchanged on 2.5 percent at its April meeting.