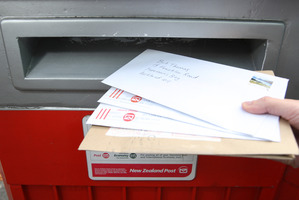 A deed of understanding dating back to 1998 stipulates that New Zealand Post must deliver mail six days a week to most of 1.9 million delivery points and maintain 880 outlets. Such has been the pace of technological change that it might just as well be dated 1888.
Over the past 14 years, mail volumes have plummeted as social networking sites and online media make communicating easier, cheaper, more convenient and more immediate.
To add to NZ Post's woes, charges for toll calls have dropped, and courier firms have stepped into the urgent-delivery market. It is, therefore, unsurprising, that the state-owned enterprise is seeking fundamental changes to its core postal operations.
Its chairman, Michael Cullen, has told the Government that NZ Post is looking at cutting postal delivery from six to three days a week and reducing staff numbers as it seeks to weather the sharp and "irreversible" downturn in postal revenue. This points to mail being delivered only on Mondays, Wednesdays and Fridays, as well as the increasing presence of self-service kiosks in place of PostShops.
It is not the first time that NZ Post has sought changes to the deed. Just last year, it wanted to axe Saturday deliveries. This was rejected by the Government, apparently because big companies prefer deliveries that day.
That red light was unfortunate. The cessation of deliveries on Easter Saturday showed most people were unconcerned if mail did not arrive at the weekend. Indeed, countries like Australia and Britain cancelled Saturday deliveries long ago. Changing circumstances surely dictate that most people would also be relatively happy if the bills that are now the mainstay of most mail deliveries did not arrive every day.
NZ Post statistics make it apparent that the Government should consider this. The volume of priority mail has dropped from 46 million in 1998 to 8 million. NZ Post had forecast a further 5 per cent drop in mail volumes this financial year.
But in the December half-year, the decline steepened to 7 per cent, the fastest ever, despite the upswing in New Zealanders' on-line purchases from overseas retailers. This prompted Dr Cullen to predict that if no processing or delivery changes were made, a $10 million loss on postal services would double next year and keep growing.
Amendment of the deed is all the more justified because NZ Post has done virtually all that could be expected to maintain its current level of service. Many moves, not least cost-cutting, have been made to buttress its core business.
And there have been many initiatives to offset postal losses with new technology, such as last year's iPhone application that lets people send postcards using their own photos. NZ Post has also grabbed a share of the courier business in a joint venture with DHL.
But, according to Dr Cullen, "short-term fixes" will no longer suffice. More must be done, especially as NZ Post needs hundreds of millions of dollars for the expansion of its subsidiary Kiwibank. That level of capital cannot be sustained when its own earnings are declining. Some Government financial input will, therefore, be required. This should not be begrudged given the success of Kiwibank.
But State-owned Enterprises Minister Tony Ryall must also recognise that the day of the humble letter is past. Some solution to the requirement that mail be delivered to every box, every day must be possible. The one-size-fits-all model is an anachronism. Perhaps a first step would be a reduction of service on Saturdays and in urban areas with highest broadband penetration.
NZ Post cannot fail. There will always be a requirement for certain types of bulk physical mail, such as electoral enrolment forms and other vital services. NZ Post should be given a chance to match its own requirement for profitability with the needs of its customers.