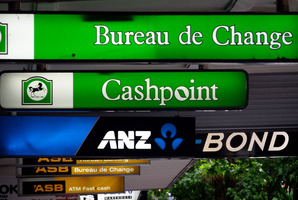 KPMG expects New Zealand's banks to report a more modest increase in earnings after enjoying a bumper year in 2011.
The banks' combined net profits after tax increased by 19.1 per cent to $3.30 billion in 2011 from $2.77 billion in 2010, according to a KPMG survey.
This year was likely to be a different story, said John Kensington, KPMG's head of financial services
"I think in the current year the banks will have a smaller increase in earnings," he told a briefing today.
However, he said earnings could quickly improve if lending growth picked up.
"If we start to see lending growth again, then they could quickly grow that profit line because of where margins are at the moment," Kensington said.
"I think you will see some profit growth but it won't be meteoric."
Bank earnings would continue to grow as they cleared up the last of their impaired loans in the aftermath of the global financial crisis.
There was also potential growth for the banks if more people shifted from fixed rate mortgages to floating rates.
Banks could also see some growth in the size of their balance sheets, he said.
Over the last few years, New Zealanders have shifted to floating rate mortgages from fixed.
For the banks, floating rates have generally proved to be more profitable because they involve less administration and the banks can improve their margins by cutting their own funding costs.
Kensington said whether New Zealand borrowers continued to opt for floating rates would largely depend on when the Reserve Bank chose to raise interest rates.
Some mainstream commercial banks expect the central bank to raise its official cash rate at the end of this year, while others say the rate could rise by mid 2013.
KPMG's survey showed that earnings strength in 2011 came through despite the trend of customers paying off debt and the slow start to rebuilding activity in Christchurch after last year's earthquakes.
The report said the trend of people opting to pay off debt continued unabated in 2011 and was likely to be a feature of the market through to 2013 and beyond.
KPMG is a global network of professional firms providing audit, tax and advisory services.
APNZ jg lb
- APNZ