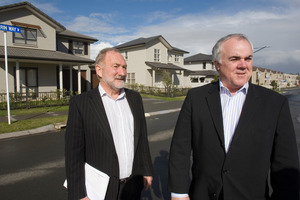 Housing investor and developer Todd Property Group will build up to 6000 new residences in the next few years but has scaled back a former developer's plans at a $2 billion East Auckland estate.
Todd, building the equivalent of just under half the country's total new annual housing supply over about six or seven years, is remediating excavated apartment sites at Stonefields in Mt Wellington because it found the original scheme by Gregg Olliver too intensive.
Managing director Evan Davies said sites around College Rd were being filled because market signals meant plans had to be reconsidered.
"When we took control, there were a significant number of sites with half basements," he said, explaining how earth had been prepared for larger, taller blocks.
But pre-sales on those blocks had failed so single residences will now be built. Originally, nine big apartment blocks were planned on the former quarry, Davies said.
Two sites of around 2000sq m, excavated by Olliver's LandCo, are being reinstated at the estate with Fletcher Residential and Fletcher Construction.
Todd Property Group is a wholly owned subsidiary of Todd Capital.
The Todd family appear on the latest NBR Rich List with an estimated $2.7 billion fortune, behind Graeme Hart's $6.5 billion and Richard Chandler's $4 billion.
Davies - a former SkyCity chief executive - said the projects in Auckland and Napier were either planned or well under way and would be stand-alone houses, terraced-style residences and apartments.
Todd Property Group incorporates assets once owned by Olliver's Landco Land Developments. In 2005 Todd Capital took a 30 stake but by October, 2007, it held 49 per cent.
In 2008 Todd Capital bought the remaining underlying shares in the Landco Land Development business.
At Stonefields, Davies said deposits had been paid on about 12 Saltus units, the first 44-apartment block and sales had been in the $650,000 range and higher. More blocks were planned.
"There's an opportunity in the latter stages of Stonefields to build one or two larger blocks which might have 90 units but those will be on the western part overlooking the wetlands," he said.
On Auckland's North Shore, extensive earthworks at Long Bay were preparing the site for about 2700 new houses, he said.
"We've just closed down our third season of earthworks to achieve the contours, stabilising sites, reconfiguring wetlands and stormwater.
"The first sites will be able to be purchased later this year," he said, predicting initial houses could be finished next year.
"We will sell the land and completed products and we would hope to work with Fletcher there as well," he said.
Work is yet to start at Napier, on the site of the hospital which closed in 1997.
In 2003, the land was transferred to the Crown Health Financing Agency to manage and sell and Todd bought it last year for an undisclosed sum.
Todd will begin work on a South Auckland site next year.
In February, Auckland Council property chief executive David Rankin and Davies announced a scaled-back version of plans for Flat Bush, which was to be developed by bankrupted Nigel McKenna. It is now renamed as Ormiston Town Centre.
Next year, Todd will begin building a smaller hub with 40,000sq m to 50,000sq m of retail and 500 to 700 residences, Rankin and Davies said.
TODD PROPERTY PROJECTS
* Stonefields, Mt Wellington: 110ha $2 billion development, 2600 houses/apartments for 6500 people.
* Long Bay, North Shore: 2700 households, earthworks under way, house building soon.
* Ormiston Town Centre, Flat Bush, South Auckland: 19ha site, 500 to 700 apartments, 60 shops, four large-format stores.
* Napier Hospital site: 5ha site, 50 to 100 residences, work yet to start.