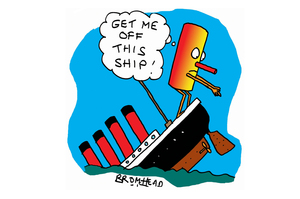 I really am over anything "Titanic" - in a big way.
My scepticism has hardened since the original disaster appears to have turned into some sort of historical entertainment curiosity, with little respect for the victims.
For example, I've been receiving invitations to attend a commemorative ball to enjoy supping on the last dinner served on the ill-fated liner - an Edwardian menu degustation, offering a dubious insight into what it must have been like to face the icy waters of the Atlantic with an overloaded gut.
After such fare I would find it difficult to swim in a shallow, heated Hawaiian pool, never mind in mid-ocean in darkness.
The original 10-course menu has been reduced to eight courses, suggesting our Edwardian forefathers were made of sterner stuff when it came to lining their stomachs for the evening.
A second invitation advised me there were only 10 berths left for the black tie dinner and commemorative ball, including - while I danced the night away with not an iceberg in sight - entertainment by the internationally renowned Beat Girls.
Err ... What sort of misguided frolic is this that commemorates the deaths of 1500 people?
Our loss of sensitivity about tragedy probably stems from Hollywood's ability to anaesthetise and distort our senses over the hard stuff, instead glossing over actual events as romantic, antiquarian semi-fiction.
However, I'm in no position to critique the blockbuster, having studiously avoided viewing James Cameron's efforts after watching the cheesy trailers.
I recall an earlier Titanic film, also tedious, but this time because it was in German with French sub-titles, inspired and financed by Nazi propaganda director Joseph Goebbels.
The Nazi film focuses on slagging the greed of British company directors all wanting to make "the boat go faster" - to borrow a phrase now favoured by today's innovation exponents.
Spookily, part of the 1940s film was shot on the German Liner SS Cap Arcona, masquerading as the Titanic.
This proved to be a rather prophetic impersonation, as that liner eventually met a similarly horrific ending.
The Cap Arcona, which had been turned into a prison ship, was erroneously sunk by the RAF in the Baltic in 1945, while carrying 5000 inmates from Nazi concentration camps.
The loss of life makes it one of the biggest single shipping disasters of modern times.
I wonder when we'll be holding a commemorative ball and eight-course dinner to celebrate that particular tragedy?