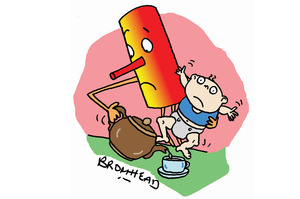 Having burdened myself with school fees until I'm 96, friends naturally regard me as someone requiring psychotherapy.
This can't be denied. Anyone who has continued to add - well into their dotage - wives, children and a number of professional occupations, ranging from the aesthetically demanding to the ludicrous, does hint at a condition suggesting some form of arrested development.
Particularly as, like many people, I appear to be working twice as hard for half the remuneration, compared with a few years ago.
With domestic responsibilities making increasing demands on my wallet, the caregiver has been reviewing how best to shore up the paltry stipend paid to me by the media industry, to finance the never-ending demand for nappies.
As a grand gesture, I have offered to give up the remaining pleasure from my glorious days as a freewheeling bachelor, by agreeing to drink the same supermarket packet tea as the rest of the bourgeoisie out there.
This is not a sacrifice taken lightly. Over 30 years I have acquired a taste for a fine leaf tea from Assam, called Dimakusi. A strong, black tea with the texture of grainy gunpowder, it's without doubt the claret of fine teas, reflecting the dry aftertaste of a good bottle of St Emilion.
Now, those weaned on teabags will sneeringly suggest this is pure tosser talk and that a cup of tea is well ... just that.
This simply isn't true. Dimakusi is special. So, what's the economic problem? Well, unfortunately, the nearest stockist is in Sydney and local regulations prevent the supplier from re-exporting his stock. I must collect the tea myself, or inveigle friends visiting Sydney to bring back what appears to be a dubious sealed packet of powdery substance - which raises the occasional nervous eyebrow. The last resort is to courier the tea across the Tasman at horrendous expense.
The caregiver has ruled firmly: "Nappies before Dimakusi."
So, I'm now trying to adjust my palate to something called Edglets, advertised optimistically, as "The tea for connoisseurs".
But I am fighting back, recollecting my grandmother's monetary acumen for diligently collecting tea coupons in jam jars.
Mr Edglets is offering me 25c as a bonus for every 30 packets I consume.
I've calculated that within 20 years I will have saved enough coupons to fund a fresh supply of you know what.