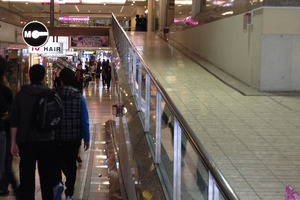 A community leader is encouraging a more positive attitude over tiny Queen St shops, saying they are not all bad.
Alex Swney of Heart of the City defended the Auckland shops spreading up the main street as larger spaces are subdivided, saying they fulfilled an important need.
He was responding to Cameron Brewer, chairman of Auckland Council's business advisory panel, who this month spoke out against the small shops selling what he called "rubbish" on Auckland's golden mile. But Swney took a different view.
"There are some good and bad sides to all of these sorts of discussions. It's never straightforward," he said, citing a shop of 3sq m which sold coffee and French rolls and was so popular that it had people queuing.
"And 50m away is a 10sq m site selling Korean pancakes, once again, daily queues. I guess what I am saying is that small is not always bad.
"There is an evolution in all things and retail is no exception. A decade ago there was a single convenience store in the CBD, on Durham Ln West. At last count there were 38 in the CBD. With the arrival in the last couple of months of Countdown and New World Metro, I'm picking that this number will plateau then fall. We have seen this sort of transition around the world so, some downward pressure on this market sector," Swney said.
"It's about achieving a balanced and quality outcome. Malls have a much more closely managed environment so we need to offer a much more varied retail offering that will have some grit. We have to be careful not to over-prescribe what we are looking for," he said.
But he says Auckland's CBD retailing is well overdue for a new set of guidelines and for officials to be prepared to say no to some retail.
"We have this guiding principle in our office - no one ever says, 'I found this great little shopping mall'," Swney said.
Christopher Dempsey, a Waitemata Local Board member also backed small shops, saying size was not the point.
Dempsey said having small shops "creates a sense of vibrancy and uniqueness and can play a positive role in developing an authentic and bespoke offer".
"A monoculture of one shop size lacks vibrancy, uniqueness, and can hardly be said to offer anything bespoke," Dempsey said, saying his view was backed up by a retail specialist.
Business people are worried about some new and other existing retail developments.
"Do the shops in these places make any money? Why are the stores so small? What is the demographic profile of the tenants? What levels of sales are these retailers reporting? How often do the shops turn over? How can we improve the quality and standard of these developments and retailers," one expert in the field asked.
They want pressure put on the council to create a CBD retail hub which is viable, appealing and which makes a valuable addition to the city, but they questioned how this could be achieved.
They blamed the Unit Titles Act for allowing strata-titles to be created, which they said encouraged smaller tenancies and which was banned in some European cities.
"Because the buildings are unit titles, any future redevelopment of the buildings will be almost impossible. So in due course, the city will most likely be stuck with very old, outmoded, stigmatised, dilapidated shopping areas," the expert said. "Unless the council acts to prevent further developments of this sort occurring, the retail environment south of Victoria St will continue to deteriorate."