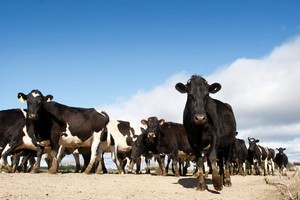 The sale of the Crafar farms was not raised yesterday by senior Chinese leader Jia Qinglin in his talks with the New Zealand Government.
And Acting Prime Minister Bill English was not expecting it to be raised, even informally over dinner last night at Premier House.
The ministers considering the decision were applying the law and the court judgment which overturned a previous approval to sell the 16 Crafar farms to Shanghai Pengxin.
"It's going through a process," Mr English said after the talks.
"It's not as if it is negotiable."
Mr Jia is No4 in the Chinese leadership hierarchy and is chairman of the National Committee of the Chinese People's Political Consultative Conference.
His security detail during his visit to the Beehive was relaxed as more than 40 pro-China demonstrators outnumbered and out-shouted eight protesters from the Falun Gong movement.
The Green Party did not field any demonstrators during this visit. Co-leader Russel Norman, who was in a scuffle with Chinese security staff during a protest at Parliament in 2010, was on his way to Christchurch.
But Dr Norman issued a press statement accusing Mr Jia of applying pressure to the Government to change investment rules in contributions yesterday to two newspapers, including the New Zealand Herald.
In his article, Mr Jia said China encouraged investment by capable and credible Chinese companies in New Zealand.
"We hope New Zealand will provide them with an enabling policy environment and facilitate Chinese investment so as to scale up two-way investment and achieve all-round and balanced growth in our business ties."
Dr Norman saw that as an affront to New Zealand, saying: "The Chinese Government has laid down a clear challenge to the sovereignty of the New Zealand government, no less than the United States challenge over nuclear weapons in the 1980s.
"The only question is whether this National Government has the courage to say no."
Mr English dismissed the comments as a "conspiracy theory."
He said human rights issues had not been raised with Mr Jia.
"New Zealand has a process by which it consistently raises and maintains a watch on human rights developments with the Chinese Government. They fully understand our interest in it."
Mr English welcomed a move by China's central bank to widen the yuan currency's trading band.
New Zealand was caught between the United States taking actions to keep its currency low and the Chinese Government not allowing its currency to rise.
"So if either of them change their polices to give more flexibility and allow their currencies to move in the way we expect they would move that would benefit New Zealand."