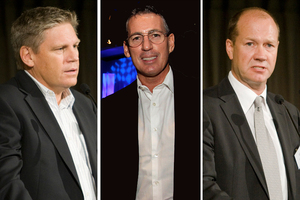 Investors are unlikely to see any of the fines being sought from six former Hanover directors and promoters - an amount which could be as high as $30 million.
The Financial Markets Authority has filed civil action against Mark Hotchin, Eric Watson, Greg Muir, Bruce Gordon, Sir Tipene O'Regan and Dennis Broit for allegedly misleading or untrue statements made in Hanover offer documents.
The FMA is seeking compensation for investors who put $35 million into Hanover Finance, Hanover Capital and United Finance between December 2007 and July 22, 2008.
The market watchdog is also seeking penalty orders against the defendants and if the claim is successful, the former directors and promoters could each face fines of up to $5 million.
The amount of the fine, if any, is determined by the court but the 10 causes of action filed against the six men each carry maximum pecuniary penalties of $500,000 (amounting to $30 million in total).
But if the court imposed fines, it was unlikely this money would be distributed to investors, a spokesperson for the FMA said yesterday.
The spokesperson could not comment on it what it would be used for.
Any orders for the defendants to pay compensation to investors would be separate to these penalties.
In the December 2007 prospectus targeted by the FMA, former Hanover chairman Greg Muir said the board was confident of the charging group's ability to meet obligations to secured deposit and capital bond holders.
"We expect operating conditions in the year ahead to be more challenging than in the previous 12 months ... however, we are well placed to manage through this period and deliver good returns to our investors," Muir said in the prospectus.
But according to the FMA's statement of claim against the defendants, these and other parts of the prospectus "were individually or collectively untrue" as they failed to mention factors contributing to the deterioration in the company's liquidity between June 30 and December 7, 2007.
The FMA also alleged there was a "substantial decline" in Hanover's reinvestment rate, which had fallen from 81 per cent in June 2007 to 34 per cent by December of that year.
Hanover's cash position fell from $150 million to $80 million from June 30 to December 2007 and the company experienced significant cash flow deficits in four of the five months to December 2007, the FMA claims.
In August 2007, for instance, the FMA alleges Hanover's cash flow was negative $44.3 million.
On March 31, 2008 an extension certificate was signed off on behalf of all directors which purported the financial position had not materially changed from June 30, 2007.
But the FMA alleges that over the period there was a "substantial increase" in Hanover's past-due loans, up 1291 per cent between June 30, 2007 and February 29, 2008.
The company's conduct "caused substantial loss or damage to the subscribers for the securities involved" and "has materially damaged, or was likely to damage, the integrity or reputation of New Zealand's securities markets", the FMA alleged in its statement of claim.
As well as in the Hanover Finance prospectus, the FMA has filed action for alleged untruths in the United Finance and Hanover Capital prospectus, four advertisements and three investment statements.
CIVIL ACTION
Included in its statement of claim, the FMA alleges that Hanover directors distributed:
* A prospectus that contained untrue statements for Hanover Finance.
* An investment statement that contained an untrue statement for Hanover Finance.
* An advertisement that contained an untrue statement for Hanover Finance during Summer 2008.
* An advertisement that contained an untrue statement for Hanover Finance during December 2007.