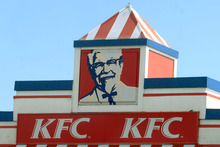 KFC Thailand has issued an apology after being criticised for a Facebook message during Wednesday's tsunami scare that urged people to rush home and order a bucket of KFC.
As people were being told to evacuate beach areas, the company posted: "Let's hurry home and follow the earthquake news. And don't forget to order your favourite KFC menu."
By Thursday the message was replaced by one that asked for forgiveness.