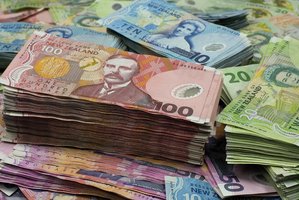 The New Zealand dollar rose to its highest level this month even as reports showed economic growth was less than forecast in China, the nation's second largest-trading partner.
The New Zealand dollar rose as high as 83.18 US cents, the highest since March 2. It traded at 82.92 cents at 5pm, up from 81.95 cents yesterday and 82.67 cents at 8am.
China's first quarter gross domestic product expanded 8.1 percent from a year earlier after an 8.9 percent year-on-year gain in the fourth quarter, the National Bureau of Statistics said in Beijing. Economists in a Bloomberg survey had predicted a rise of 8.4 percent. The data helped support speculation Premier Wen Jiabao will loosen monetary policy to counter weak domestic and European demand, which would boost demand for risker-assets such as the kiwi.
"If I was trading kiwi I'd be looking to buy in this dip. Sentiment is just crazy," said Chris Weston, market strategist at IG Markets. "We are looking at flows into risk assets - I think the kiwi can get above 83.14 cents tonight."
The New Zealand dollar rose to 67.12 yen from 66.35 yen at 5pm yesterday as Japanese ministers prepare to discuss deflation amid speculation the Bank of Japan will add to monetary easing later this month.
The BOJ unexpectedly expanded bond purchases by 10 trillion yen on Feb. 14 and set an inflation goal of 1 percent. Policy makers kept their benchmark interest rate and asset-purchase programme unchanged on April 10.
In the US, the Michigan consumer confidence survey is set for release tonight.
The New Zealand dollar rose to 62.94 euro cents from 62.39 cents yesterday and climbed to 52 British pence from 51.42 pence. The kiwi increased to 79.77 Australian cents from 78.97 cents.
The trade weighted index advanced to 73.84 from 73.05.