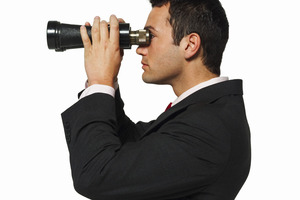 Marketing Consultant Graham McGregor on the value of looking for a 'better way' to improve your sales and profits.
If you want fantastic business results, one secret is to spend a few minutes every day looking for a 'Better Way' to do things in your business.
Start by asking questions like these:
1: How can I reduce my customer's fear of making a mistake when they buy our products or services?
When you come up with answers to this question you often experience huge increases in sales.
The reason is simple...
All of us have had the experience of making a bad purchase somewhere.
The product or service didn't work, caused problems and other people criticised us for our purchase. This means we are all a little bit reluctant to spend money on any product or service in case we make a mistake and get criticised again.
The Unique Guarantee:
A pest control service used this 'fear of making a mistake' idea well. They offered a commercial pest control service (insects, rats, fleas etc) for restaurants and hotels.
They added a unique guarantee to their service.
Firstly if the hotel or restaurant lost a booking because of a problem with pests, the pest control company would pay for that lost booking.
If the hotel or restaurant was ever closed down by a health inspector for a pest problem, the pest control company would reimburse them for any lost revenue they might have had.
The guarantee went on to cover 10 other points.
This pest control company is twice as expensive as anyone else in their field. They also have 80 per cent market share in every area they go into.
Best of all they have a simple insurance policy that covers them for any money they might have to pay out. All they have done is dramatically reduce the customer's fear around paying for their pest control service and it not working.
2: How can I get more clients to tell their friends about my business?
We all know that positive word of mouth marketing is a great way to get new customers.
The Unexpected Pot Plant:
An appliance shop uses this idea very well. Ten days after they make a sale of an appliance to a customer they send out by courier a little pot plant and a handwritten thank you note. (This costs the shop about $15.) Their customers love the unexpected gift and end up telling a lot of their friends and colleagues about this wonderful little appliance shop.
3:How can we make our product or service look far more attractive than our competitor's product or service?
The Bank that Promised Speed:
A major bank did a series of marketing campaigns that guaranteed to new clients that they would never have to wait in line at a bank branch for more than 5 minutes.
If a customer did have to wait more than 5 minutes in a line; the bank would give them free bank fees for a year.
A large number of new clients liked the idea of not having to wait in a line for more than 5 minutes; so they opened new accounts.
Now the bank had carefully measured the time their clients actually stood in a line while waiting for a bank teller.
They found that 95 per cent of the time it was under 5 minutes. It just seemed longer than that to the people that were waiting.
Action Exercise:
Write down 20 answers to any of these three 'Better Way' questions. Then put into practice at least one answer you come up with.
"Quality in a service or product is not what you put into it. It's what the client or customer gets out of it."
- Peter Drucker
Graham McGregor is a marketing consultant and the creator of the 396 page 'Unfair Business Advantage Report.'
www.theunfairbusinessadvantage.com
(This is free and has now been read by business owners from 27 countries.) You can email Graham on graham@twomac.co.nz