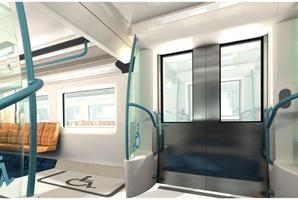 Auckland's new electric trains will have a choice of floor levels to cater for all users.
Passengers using the outer two carriages of each three-car train will have to step up to raised floors, because of a need to run electric cabling through the space below.
But those with disabilities, or with prams or bicycles, will be encouraged to use the middle car as it will be a non-motorised trailer unit, allowing much of its floor to be at platform level.
That will be a big improvement from the current practice of train staff having to roll out cumbersome metal ramps for wheelchair users.
Auckland Transport electric train project manager Tom Salt says the middle car will be painted a different colour to the motorised units at each end, to distinguish its easier accessibility.
Mr Salt said user groups would be invited to inspect a wood and fibreglass "mock-up" of the carriage interior after it arrived in about June from Spain, where the CAF company will build 171 cars to be formed into 57 electric trains due in service by 2016.
The trains would generally run as three-car units, although they could be doubled to carry up to 750 passengers for special events such as big sports matches at Eden Park.
Deputy Mayor Penny Hulse said that as a rail passenger who spent an hour each way on western line trains each day, she was looking forward to internet wi-fi on the new electric fleet to keep up with council business.
Committee chairman Mike Lee said the Auckland Transport board - on which he sits - had not decided what to do with the existing carriages, but he believed it would be very prudent to mothball them for possible future uses.
"I would say that after the Central Rail Link [$2.86 billion proposal for an inner city train tunnel] there will be a shortage of rolling stock," he said.
Auckland Transport special projects corporate manager Claire Stewart said construction of a large $100 million maintenance and "stabling" depot for up to 28 electric trains would start early next month at Wiri.
To be built on the western side of the junction of the main trunk line and new Manukau branch line, it would be operated by CAF as part of a $640 million contract for the supply and maintenance of trains for 12 years.