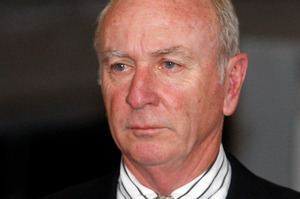 Prosecutors will seek to jail Rod Petricevic and Rob Roest for a longer period than other former finance company directors who have faced the courts - and according to legal sources the Crown has the ammunition to back itself up.
Petricevic, Roest and fellow Bridgecorp's director Peter Steigrad were found guilty this week of making untrue statements in the failed finance company's offer documents.
While Bridgecorp's former managing director and former financial controller were found guilty on all of the 10 Securities Act charges they faced, Steigrad was convicted on only six. In a point of difference to the high-profile Nathans Finance or Lombard Finance cases, Petricevic and Roest were also found to have acted dishonestly and guilty of knowingly making false statements in an effort to induce investors to pour money into Bridgecorp.
"Because of the Crimes Act and Companies Act dishonesty offences [the case] stands out on its own. You've got overworked, untrue statements - knowingly so by the directors, so that does stand it apart," said Crown prosecutor Brian Dickey after the verdict delivery.
As such, Dickey said the Crown would be pushing for a lengthy sentence for the pair.
A lawyer who worked on previous finance company cases told the Herald the Crimes Act charges would give the Crown more ammunition to push for a longer sentence than in Nathans or Lombard. "There's been no defended hearing involving those [Crimes Act] charges. None of the finance companies - Lombard, Nathans or anybody else - has had that particular charge," said the barrister, who did not want to be named.
The Crimes Act charges Petricevic and Roest were convicted of carry a maximum penalty of 10 years in jail. Because of this, the lawyer believed there would be a "significant difference" in Petricevic and Roest's sentence from those dished out to the directors of Nathans and Lombard.
When delivering his verdict, Justice Geoffrey Venning said it was inevitable that Roest and Petricevic would face jail time. Petricevic will be sentenced on April 26th and Roest on May 18. Both are in custody.
The Crimes Act charges the pair were convicted of related to statements in Bridgecorp's offer documents that the company had never missed a payment of interest or principal to investors.
According to evidence tabled in their four-month-long High Court trial, Bridgecorp began missing payments to investors on February 7, 2007. The company collapsed around five months later, owing $459 million to 14,500 investors.
Petricevic maintained in court he did not know about the missed payments in February and did not become aware of one set until he read about it in the newspaper. However, in what began something of a blame game in the trial, Roest said he told Bridgecorp's former managing director about issues with money going to investors on time.
Petricevic denied this and his lawyer, Charles Cato, suggested Roest may have a motive to implicate his fellow director, saying it was "human nature" for a co-accused to attempt to "mitigate their position" when standing trial. But Justice Venning ruled that Roest's evidence was reliable.
"Given the situation Bridgecorp faced at the time, it is logical that Mr Roest and Mr Petricevic would discuss Bridgecorp's cash flow and its commitments to investors ... Mr Roest had nothing to gain and no reason to withhold information regarding the missed payments from Mr Petricevic," the judge said.
Although Petricevic accused the finance director of being more "hands-on" than he was at Bridgecorp, both faced the same fate - guilty of all the 18 charges they faced.
After sentencing, the pair are due to appear in court together again in September on criminal charges brought by the Serious Fraud Office.
In court
Nathans
* Three former Nathans' directors - Kenneth (Roger) Moses, Mervyn Doolan and Donald Young - were found guilty of making untrue statements in the company's registered prospectus.
* Moses was sentenced to two years and two months' jail and ordered to pay $425,000 in reparations. Doolan was sentenced to two years and four months' jail and ordered to pay $150,000. Young was sentenced to nine months' home detention plus 300 hours of community work and reparations of $310,000.
Lombard
* Four former directors of Lombard Finance were found guilty of misleading investors. Former Justice Minister Doug Graham and Lawrence Bryant were sentenced to 300 hours' service and ordered to pay $100,000 reparation.
* Another former Justice Minister, Bill Jeffries, and Michael Reeves, were sentenced to 400 hours' community service.