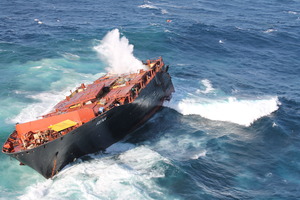 Cuts of meat have been among the fresh debris from the Rena washing up on Coromandel shores, as officials appeal to beach-goers to take care this Easter weekend.
Spokesman for environmental recovery specialists Braemar Howells, Grant Dyson, said debris knocked from the stricken container ship during this week's rough seas had spread over a wide area including Matakana Island, Waihi Beach, Pauanui and Tairua.
The debris included plastic beads, timber and wheelbarrow parts, while cuts of meat had washed up at Tairua.
A total of 16 containers had been lost during the storm, and one found floating west of Mayor Island would either be towed away by a tug boat or fitted with a transponder.
"We appreciate we are coming into a holiday weekend and we would ask the public again to help us get to debris as soon as we can.''
People seeing Rena debris were asked to phone the free-calling number 0800 333 771.
Oil was continuing to trickle from the wreck but none had yet washed up on any beaches.
Maritime New Zealand national on-scene commander Rob Service said it was hoped the oil had been broken up in rough seas, although a response team was ready to deal with any that came ashore.
Any oil that did wash up would likely be no more than a sprinkling, he said.
Tens of tonnes of oil were thought to remain on the Rena, in both its forward section and now-submerged stern.
David Billington, in charge of salvage operations for Maritime New Zealand, said the Rena was continuing to be pounded to pieces on the Astrolabe Reef amid persistently heavy swells.
The stern section had slid further down the reef but had not sunk to the bottom, he said.
Salvors were attempting to land on the flooded forward section this afternoon (Thur) for a damage inspection but would suspend the salvage until sea conditions improved.
At a press conference today, Maritime New Zealand continued to refuse to answer any questions over today's announcement that it would prosecute the owners of the Rena under the Resource Management Act, six months after it grounded.
The move has drawn reaction from some politicians.
Greens MP Gareth Hughes said the decision was a "good move'' but "highlights how inadequate our laws are for recouping costs relating to a major environmental disaster''.
"The total cost of the clean-up is estimated at $130 million but the maximum fine under the RMA [Resource Management Act] is only $600,000,'' he said.
"Taxpayers are footing the clean-up bill because our laws and regulations are inadequate for recouping the full costs.''
Mr Hughes called for the Government to sign up to international conventions allowing it to pursue the full cost.
"A better mix of new rules that will help avoid disasters, like compulsory shipping lanes and greater numbers of local crew members, coupled with better financial protection is needed.''
- APNZ