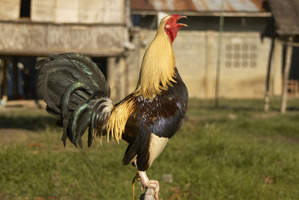 As Jesus accurately predicted in a post-dinner conversation just prior to his arrest, a disciple disclosure breach was imminent.
"Verily," Jesus said unto Peter, "this night, before the cock crow, thou shalt deny me thrice."
Sure enough, two rooster crows later (although there is some controversy surrounding the quantum of cock crows) Peter had thrice denied Jesus, in a clear contravention of his own undertakings (refer Matthew 26, 59-75; 27, 1-7: Mark 14, 55-72: Luke 22, 56-71: John 18, 17-27) and the ethical standards expected of a top-ranking apostle.
Peter may not be entirely to blame because, as far as we know, Jesus failed to issue his followers with written disclosure guidelines.
The Financial Markets Authority (FMA) has taken this Easter lesson to heart, releasing its revised guidance note on effective disclosure on Holy Thursday.
As if to emphasise the point the FMA disclosed thrice to me, via email, its welcoming in of the Bridgecorp verdicts, although I only read it once.
The good news was conveyed clearly, concisely and effectively - 134 words only, not including header and boiler plate guff: Petricevic, Roest, Steigrad, all found guilty.
At 52 pages, however, the effective disclosure guidelines are tougher going. I skimmed really, in much the same manner as most people probably read disclosure documents.
I also couldn't discern how different this second draft was from the original but there was a lot of feedback to the first version, most of it from expected sources, fund managers and the like.
An exception was the submission of Write Ltd, which included some editorial advice on the FMA's own editorial advice (to be found on page 16 of the draft).
"... we suggest," the Write Ltd submission says, "that you reword the techniques column to make all items parallel and beginning with a verb."
Write Ltd did endorse the FMA's advice to "avoid double negatives" in disclosure documents - I don't disagree.
Petty stuff maybe, but the details matter. Until, disclosure documents are distilled into readable English, investors can only echo the words of Peter during his episode of plausible deniability:
"I know not what thou sayest."
Cock-a-doodle-doo.