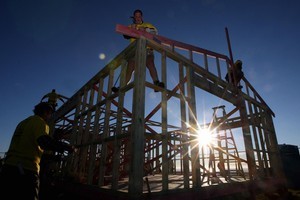 Fletcher Building's share price is back on a downward slope, reflecting an increasingly difficult trading environment in Australia.
The construction and building materials company's shares closed yesterday at $6.24, down 23c (3.55 per cent) from Tuesday's close, but off a session low of $6.11.
The stock has dropped sharply since trading at $6.75 on Monday, when the Australian Bureau of Statistics said new dwelling unit consents dropped by 18 per cent in February compared with the same month a year earlier.
The downward shift in Fletcher Building ran counter to the general market trend, which saw the benchmark NZX 50 index gain 7.33 points.
Construction activity across the Tasman took a dive in the fourth quarter, following what had been a strong third quarter, and the sector has continued to deteriorate so far this year.
Fletcher Building hit $9.52 this time last year before shifting steadily lower as concerns about Europe's sovereign debt problems and the United States credit rating downgrade took their toll on global investor sentiment.
The stock staged a partial comeback off a low of $5.80 in January but resumed its downtrend late last week.
What has become a stream of negative construction data out of Australia has prompted some broking houses to trim their forecasts for Fletcher Building, and some of its Australian peers, such as Boral, CSR and Leighton Holdings, which have all seen weakness in their share prices.
Australia is Fletcher Building's second biggest market after New Zealand, and is responsible for about 39 per cent of its revenue.
Fletcher Building's earnings guidance, issued at the release of its interim result in February, was for a 2011/12 net profit, excluding unusual items, of between $310 million and $340 million, compared with a net profit of $359 million in the previous year.
Goldman Sachs NZ analyst Matt Henry said he was sticking to his 2011/12 forecast of a net profit before unusual items of $322 million.
He said the Christchurch rebuild would slowly gain traction and he was more optimistic about the company's prospects in New Zealand, relative to Australia.
"The trend over there has been negative and that's where the risk is," he said. "Expectations are that New Zealand will get better over the next 18 months and the Christchurch [rebuild] will slowly gain traction." Shane Solly, portfolio manager at Mint Asset Management, said Fletcher Building had done a good job in what is a difficult environment in Australia.
"It [the share price] is not a statement about them, it's just the fact that they are under the hammer," he said.
Rickey Ward, head of equities at Tyndall Investment Management, said Fletcher Building was also suffering from effects of a high Australian and New Zealand dollar, which gave competing imported building materials a relative price advantage.
- APNZ