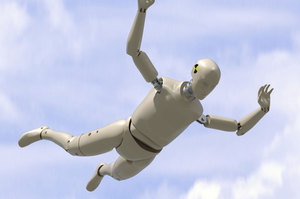 There's nothing to worry about, the man from the IMF said so.
Except, perhaps, if China falls over and hurts itself.
"... a hard landing in China, which would negatively affect Australia, would consequently reduce demand for New Zealand exports, worsen terms of trade, and could trigger a sudden decline in house prices," the IMF New Zealand report card says. "This could in turn weaken consumer demand and growth, and negatively affect banks' balance sheets," it went on before rounding off the sentiment in classic econocrat-style.
"The downside macroeconomic impact of such a scenario could be substantial."
Excluding the downside macroeconomic impact scenarios, the IMF report card makes for pretty dull reading. But as an account of the current state of affairs I guess it will do.
History, however, has better stories even as told by the Reserve Bank of New Zealand in its latest bulletin.
Titles such as 'The evolution of prudential supervision in New Zealand', 'Business cycle review 1998-2011' or 'A brief history of monetary policy objectives and independence in New Zealand' might not be to everyone's taste - the executive summary would probably do for most.
But 'The New Zealand Debt Conversion Act 1933: a case study in coercive domestic public debt restructuring' by Michael Reddell is a cracker Easter read.
Reddell's tale illustrates the desperate plight of the then New Zealand government and its attempts to wriggle out of debt by adopting, as one commentator at the time had it "an unprecedented interference with contractual rights in New Zealand".
(But now that we have a precedent maybe today's government could give it a go too.)
"New Zealand entered the Great Depression with very large public and private debts," the article begins. "The burden of those debts was greatly exacerbated by the unexpected size of the fall in real incomes and in the price level."
Now that is probably what the IMF man means by a substantial downside macroeconomic impact.