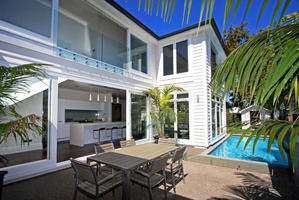 Grey Lynn residents are wondering about the next high-priced sale after records were set when some properties went well above their rateable valuations last month.
Sales of a group of renovated houses and a new property in the area left some residents celebrating but others decrying the trend, claiming their area is being ruined by nouveau riche.
Tomorrow's auction of a new reproduction white villa with a pool at 32 Rose Rd in Grey Lynn is being watched closely, seen as a further market bellwether. Some residents said this week it could fetch more than $2 million, even though the QV is only $720,000.
But an agent selling it, Marty Hall of Ray White, was not delighted to be asked about it, saying the owners had spent "hundreds of thousands" of dollars on the place and he was not sure they would want its sale price published because that might not be in their interests.
He was also critical of publicity about sales in the area generally, saying last month's Herald articles took no account of major renovations made to properties.
They were therefore misleading, particularly for people who only read the headlines and not the full details of the article, he claimed.
The Rose Rd villa, designed by OJO Architectural Services for Steve Gawne and Jacquelin Stewart, has been marketed as handsome and sumptuously appointed.
"This newly built bay villa circa 2012 has an amazing five bedrooms and four bathrooms spread over two stunning levels with floor to ceiling sliding glass doors, full natural light and a westerly view to the Waitakeres," Ray White says.
The $720,000 rateable value on QV comprises $650,000 for the land and $70,000 for the house. QV says the house stands on a 455sq m section. It is being auctioned at All Saints Church Hall, 284 Ponsonby Rd at 6.30pm.
Andy Calder, Auckland Council senior planner, said council senior arborist Stephen Rowlands noticed a pohutakawa on the street immediately outside the house had been removed, although the applicant's arborist "accidently removed it", thinking it was a feijoa tree.
Mr Calder said the tree had been a council asset and removing it was in breach of the District Plan.
Andre and Nikki Bodde, of Barfoot & Thompson, were delighted with the slew of expensive sales but like all agencies, called for more listings and said this was holding the sector back.
"We have had a very active week at Ponsonby office with strong activity from a number of buyers. The sales have been coming in thick and fast across the board and for the last three weeks the company has done in excess of 300 sales per week. We have had some very good results with 9 Jessel St, Grey Lynn reaching $1,830,000 and 36 Wanganui Ave, Herne Bay getting $1,625,000. The mood from the coalface is that there are still a good number of buyers out there but still a shortage of listings," they said.