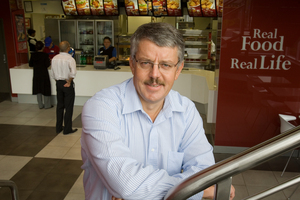 Selling Pizza Hut stores to independent franchisees, the Christchurch earthquakes and rising ingredient costs weighed on Restaurant Brands' full-year result.
But despite tough market conditions the fast-food operator says its underlying performance remains strong.
And chief executive Russel Creedy said new menu panels were unveiled in its KFC restaurants yesterday, featuring lower-cost offerings aimed at addressing consumers' needs in a difficult economic environment.
Restaurant Brands has not given specific guidance for its current full-year, but said: "The company is expected to produce a result of at least the same level [as last year] in the year ahead."
The Auckland-based firm, which in December announced it would add American burger chain Carl's Jr to its stable of brands, said it would open three to four Carl's Jr stores during the second half of its financial year.
A separate franchisee, part-owned by former All Black Michael Jones, is already operating two Carl's Jr stores in Auckland and has plans to open further sites.
Restaurant Brands said its Carl's Jr stores were expected to be immediately profitable,
Creedy said at least three of the stores would be in Auckland, but for "competitive reasons" the company did not want to disclose their exact locations.
"The upside potential for Carl's Jr is significant - if they can get it right," said BT Asset Management's head of equities, Paul Harrison. "As they start rolling those out and making the returns that they can off them it should be good."
Restaurant Brands, which also operates the Starbucks coffee chain, yesterday reported a 27 per cent drop in group net profit, excluding non-trading items, to $18.4 million for the 12 months to February 29.
Total stores earnings before interest, tax, depreciation and amortisation (ebitda) dropped 17 per cent on the same period a year earlier to $51.4 million.
Harrison said yesterday's result was soft "as expected".
KFC was moving into the last phase of a major upgrade of its outlets, with 59 sites out of the 88 store network now transformed to the new modern look, Restaurant Brands said.
Another eight upgrades and two new KFC store openings were scheduled for the current year.
The company said that despite difficult trading conditions KFC grew sales by 0.2 per cent to a record $236.3 million during the year.
But on a same-store basis KFC's sales fell 1.8 per cent, compared with 4.4 per cent growth in the prior comparable period, while ebitda fell 12.6 per cent to $45.6 million, the company said.
Restaurant Brands said the Christchurch earthquakes cost KFC approximately $3 million in lost sales.
Input costs for KFC rose "markedly" over the course of the year and a competitive marketplace limited the firm's ability to pass on the cost increases to consumers.
Creedy said ingredient prices had decreased since last year.
"Chicken [prices] are still up there but the pressure has come off a fair bit," he said. "We've seen dairy prices contract a little bit."
Creedy said the lower-cost KFC menu aimed to keep lunch and snack items below the $5 price point and larger, dinner offerings below $10.
The items had been available for some time but the new menu panels would give customers more clarity on the cheaper offerings available.
As consumers tighten their belts, McDonald's and Burger King have also been adding lower cost items to their menus.
Pizza Hut continued to struggle as a result of fierce competition and a tough retail environment, Restaurant Brands said. Total sales for the pizza brand fell 23.3 per cent, or $13.8 million, to $45.5 million.
The sale of Pizza Hut stores to independent franchisees contributed 42 per cent, or $5.9 million, of the revenue decline, the company said.
Restaurant Brands said eight stores were sold to franchisees over the year and 13 outlets were now in the hands of independent operators.
Starbucks sales fell 9.8 per cent to $26.5 million, but on a same-store basis sales finished the year up 5.4 per cent, the company said.
A dividend of 9.5c a share takes the full-year payout to 16c a share.
Restaurant Brands' shares closed up 6c at $1.92 last night.