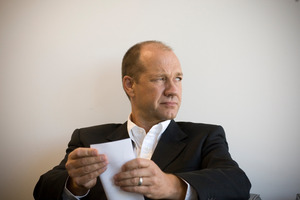 A group of 3000 Hanover investors says it will work with the Financial Markets Authority in proceedings against the company's former directors and promoters but may also launch its own action to gain compensation.
The FMA is taking a civil case against Mark Hotchin, Eric Watson, Greg Muir, Bruce Gordon, Sir Tipene O'Regan and Dennis Broit for allegedly misleading or untrue statements made in Hanover offer documents.
The FMA is seeking compensation for investors who put $35 million into the Hanover group of companies between December 2007 and July 22, 2008.
The market watchdog is also seeking penalty orders against the defendants and if the claim is successful, the former directors and promoters could each face fines of up to $500,000.
The civil proceedings relate to statements made in Hanover's December 2007 prospectus, advertising and a March 2008 certificate extending the life of the prospectus.
Spokesman for the Hanover Action Group Tim Rainey said yesterday its members were willing to work with the FMA.
"In part our action will be for those people who [invested between December 2007 and July 2008] to work with the FMA to ensure they come forward, have their claims quantified and seek appropriate compensation should the FMA be successful," Rainey said.
As well as supporting the FMA, Mr Rainey said the group could take further proceedings against the trustees of the Hanover companies to gain compensation for a wider group of investors.
"We're looking at the viability of an action against the trustees of the two Hanover companies. So there's Perpetual, who was trustee for the United Finance portfolio, and New Zealand Guardian Trust who were the statutory trustees for Hanover Finance," Mr Rainey said.
A trustee is appointed to act on behalf of investors and to ensure a finance company abides by its trust deed (the rules dictating its obligations).
Rainey said any potential action would be alleging negligence on behalf of the trustees.
While the group was also looking "very closely" at taking its own civil claim against former Hanover directors, Rainey said there were difficulties involved.
"The FMA has had far greater access to documentation and information because of its regulatory and supervisory powers than we have in acting for the investors. They've done the hard work and looked very closely at it and have attempted to broaden the net as wide as they can. So we think its unlikely that we would be able to say 'back in 2006 there were misleading and false statements [in offer documents]'," Rainey said.
About 16,000 people with investments totalling more than $500 million have lost most of their money following the failure of Hanover and related companies, and the sale of assets to Allied Farmers.
The FMA has not ruled out further civil claims against those involved with Hanover, but has indicated it does not intend to lay criminal charges.