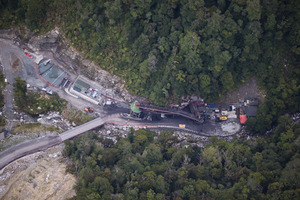 The Pike River Royal Commission of Inquiry was told today that the reputation of the mines inspectorate was in tatters after the West Coast mine disaster and the role should be outsourced to Australia.
The commission resumed in Greymouth today for the final phase of hearings. It is due to deliver its findings to the Governor-General by September.
Solid Energy told the commission it wants the inspectorate contracted out to an overseas regulator, preferably from Queensland.
That would alleviate the problem of trying to staff the New Zealand unit in direct competition with Australia, and "the risks are the same no matter whether you mine in Queensland or the Buller'', Solid Energy lawyer Craig Stevens said.
Solid Energy owns underground coalmines in Waikato and on the West Coast, including Spring Creek, New Zealand's largest underground mine, near Greymouth.
"The challenges of being able to establish a fully resourced and efficient coal mines inspectorate in New Zealand under the high hazards unit and in a market which is rapidly becoming a single market, is a very big ask,'' Mr Stevens said.
Tony King, from the Coal Industry Association, said the inspectorate used to be a place where mining professionals were happy to go, but that had changed significantly over the past 20 years.
Its reputation needed rebuilding, but he acknowledged it would be hard to match Australia's pay and conditions.
Unlike Solid Energy, the coal association favoured a local inspectorate. In such a small country, Mr King said there were issues with how it was resourced and staffed.
However, he warned that contracting the inspectorate overseas could lead to a high turnover of people rotating in and out, with no specialist knowledge of the individual mine sites they were inspecting.
Commissioner Stewart Bell said the Australian mining industry was booming and was picking up anyone with mining skills, offering better money.
"I think you'll find it will move it to another level (soon),'' Mr Bell cautioned, saying one jurisdiction alone "across the ditch'' had eight new mines coming on stream.
Mr Bell noted that Solid Energy still wanted Australian inspectors when its Spring Creek Mine was recently closed by the new acting chief mines inspector, Australian Gavin Taylor, due to safety failures.
Commission chairman Justice Graham Panckhurst asked if the Australians were even open to providing an inspectorate service in New Zealand.
Solid Energy also proposed a senior underground coal inspector take a lead role in any future disaster, noting that at Pike River the police had to `Google' what the Mines Rescue Service was on the night of the disaster, November 19, 2010.
If a Cook Strait ferry got into trouble, the police would not be helicoptered on to the bridge to take over the controls, Mr Stevens said.
In an aside, the inquiry heard from mining contractor McConnell Dowell, which had its men leave the mine just three minutes before it blew up.
Lawyer Grant Nicholson said none of those men had seen anything unusual underground at Pike River that day.
"When they left that mine that day they had no idea how lucky they were about to become.''
Justice Panckhurst said the commission had seen little evidence from McConnell Dowell, which had been involved with Pike River from the start to the end, despite the quantity of evidence it had received.
"I struggle with that.''
The inquiry also heard there were three underground coalmines in the country currently operating and two more in the pipeline - the Terrace at Reefton is due to reopen, and Bathurst plans a partial underground mine at Denniston.
The commission is expected to hear more tomorrow on whether there should be a return to the use of trade union check inspectors, something Solid Energy is not keen on amid concerns they could become involved in industrial disputes.
Police insist on lead role in mine rescues
The inquiry has also seen police say they should again take charge in the wake of a mining disaster, even though they wrongly thought the Pike River Mine 29 had survived for days after the first explosion and were holed up in underground rescue chambers.
In earlier hearings, the police were strongly criticised for running the rescue effort, and for their complex command structure which meant the rescue operation was run from the mine site, Greymouth and Wellington.
In past years, the Mines Rescue Service, not police, had a far greater role, along with the mine manager, in co-ordinating the rescue efforts.
But police maintained today that they should be in charge after a major mine disaster.
Lawyer Simon Moore SC said although police officers were not mining experts, the police had practical experience of handling "the real thing'' - real life and death emergencies.
The mine manager would not be suitable to lead a rescue, he said, noting that former Pike River mine manager Doug White initially did not realise there had even been an explosion.
Mr Moore said there was a need to have someone in Wellington dealing with other department heads, the diplomatic core and securing specialist equipment. That person should also help make life and death decisions.
The incident controller for Pike River, Superintendent Gary Knowles, should have been based at the mine site at Atarau, 40km north of Greymouth, but he had to be in town where the families were gathered.
"No location was perfect,'' Mr Moore said.
However, commissioner David Henry said police still wanted a three-tier command structure, and questioned whether future re-entry decisions could be made quickly enough.
Mines Rescue Service lawyer Garth Gallaway said that for five days the police wrongly thought the men could be alive and trapped, whereas Mines Rescue doubted that possibility.
It had been a large blast which lasted 52 seconds in a small mine, and all the men carried self-rescuers and had been trained to walk out in the event of trouble.
Apart from survivor Daniel Rockhouse, who was much closer to the mine portal, there had been no contact from underground, and the gassy atmosphere in the immediate aftermath of the explosion was probably deadly.
Instead, the police relied on comments from former Pike River chief executive Peter Whittall, Mr Gallaway said.
Police also thought there were rescue chambers underground, and that wrong information had been passed on to experts overseas.
These were some examples of why the three-tier police command structure did not work. It took 72 hours for footage of the explosion to reach the Wellington office.
Mines Rescue has argued that the statutory mine manager should play a far greater role in any future disaster.
It wants more scrutiny of those taking up statutory management roles, with a board of examiners to assess candidates before issuing a certificate of competency.
It also wants its levy (Mines Rescue is currently funded by mining companies) increased, and a new funding system introduced.