Are you involved in the civil legal action against the directors and promoters of Hanover Finance? If so, email newsdesk@nzherald.co.nz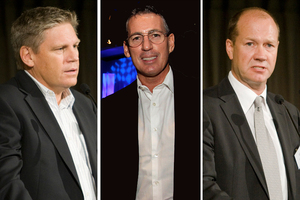 Civil legal action against the directors and promoters of finance company Hanover Finance has been launched by the Financial Markets Authority (FMA).
FMA chief executive Sean Hughes confirmed this morning to TVNZ's Q+A programme that it commenced action against Hanover's key members on Friday.
The six people named in the action are Eric Watson, Mark Hotchin, Greg Muir, Sir Tipene O'Regan, Bruce Gordon and Dennis Broit.
The action was brought because of misleading and untrue statements made in 2007 and 2008, Mr Hughes said.
"We've brought that action because we make allegations that certain statements that were made in various fundraising documents and advertisements over the 2007/2008 period were misleading and were untrue," Mr Hughes said.
Money invested over that period was about $35 million, including investments and re-investments, he said.
"The reality is ... a lot of that money has gone, and the prospects of people getting back 100 cents in the dollar must be seen as remote."
Future claims were not being ruled out.
"But we want to start where we think we've got the best case, and that's where we are today."
It was a civil liability case, rather than a criminal case, he explained.
"We did not think that this case merited a criminal prosecution. That was certainly the advice that we received, and we're comfortable with that outcome."
On Tuesday Mr Watson said he understood the FMA could issue civil proceedings in the near future.
"If this does in fact occur, it will be after a detailed investigation by the Commerce Commission, the Serious Fraud Office, the Securities Commission and then the FMA that began almost three years ago and concluded that there was no case for criminal charges," he said.
He said the FMA concluded that there was no deliberate intention on the part of the directors of Hanover to mislead investors and that "while civil charges may follow, they [the FMA] had a preference to settle rather than go through a lengthy legal process".
"If the civil proceedings go ahead it is important to note that they will relate specifically to a prospectus registered in December 2007 [withdrawn in July 2008], which the FMA have suggested raised approximately $30 million from a few hundred investors," said Mr Watson.
"These investment funds were not lost by Hanover Finance, which was one of the few finance companies in New Zealand to avoid receivership during the global economic recession.
"Regardless of this, as a shareholder, I am confident that any civil proceedings filed against the directors and promoters in respect of the prospectus will lack substance and will be successfully defended."
- APNZ