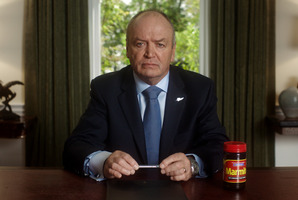 Sanitarium has enlisted former All Blacks coach Sir Graham Henry to front an advertising campaign aimed at encouraging loyalty to its Marmite brand during the shortage that has been dubbed "Marmageddon".
Retailers' shelves have been stripped bare of the yeast spread since news of the supply issues broke last week.
In the advertisement, Henry tells consumers not to "freak out" during the shortage and "to be strong, like it's a grand final, and support your mates".
Sanitarium general manager Pierre van Heerden said the advert would debut on television tomorrow night.
"We thought it would be great to have one Kiwi icon [Henry] talking about another Kiwi icon brand," van Heerden said.
Auckland-based Sanitarium, which is owned by New Zealand's Seventh-day Adventist Church, has a strong marketing relationship with the All Blacks as its Weet-Bix brand is an official sponsor of the team.
Van Heerden said the campaign would also utilise billboards and social media websites like Facebook.
Quake damage at Sanitarium's Christchurch factory forced the shutdown of the Marmite manufacturing facility and operations are not expected to resume until July.
James Bickford, New Zealand managing director of global branding agency Interbrand, said he thought Sanitarium could have gained more benefit from the shortage than it had so far.
"This [marketing] feels like more of a reactive than proactive approach."
Van Heerden would not disclose how much the shortage might cost the company, but said Sanitarium was working with its insurers over the issue.