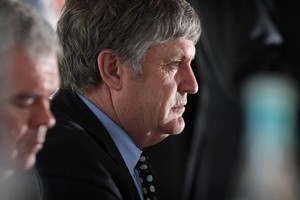 New Zealand's largest listed retirement operator will begin paying dividends again later this year, distributing between $4 million and $6 million to shareholders.
Metlifecare, which owns 2460 units and 407 rest home/hospital beds, indicated it would pay 2c to 4c a share.
In December, majority shareholder RVG sold down its holding from 82 per cent to 50.1 per cent, marking a series of changes in the business.
Analysts are now beginning to show some interest in the business which they have previously shunned because it was not a free float when RVG held 82 per cent.
Wade Gardiner of UBS issued his initial report in January with a flattering buy recommendation and a price target of $2.90, although he has many criticisms and is calling for management to make its growth strategy clearer.
He is particularly critical of the company's Poynton project at Takapuna, where sales have been slow.
"In the past five years, the only significant development Metlifecare has undertaken has been the Poynton development which, by its own admission, was not executed well with a significant number of units still unsold," Gardiner said.
"At this stage, management appears undecided as to its future strategy around new greenfield developments," Gardiner said.
The company had $1.2 billion invested in properties, 3200 residents and 520 full-time equivalent staff, chief executive Alan Edwards said last month.
Metlifecare raised $45.5 million in December to repay debt and Edwards said this increased the free float of shares in the market, giving increased liquidity.
The company made $20.8 million net profit in the year to June 30, 2011, but Gardiner is forecasting an adjusted net profit of $36.4 million to June 30, 2012, climbing to $46.7 million by 2014.
Edwards said the company was regularly offered development sites but had rejected the likes of the Victoria Quarter's Rhubarb Lane which Tournament bought, the former Royal International Hotel site in the heart of the CBD and Soho Square in Ponsonby, where Progressive Enterprises is building a new Countdown.
Metlifecare wanted land in areas which suited its demographic and was "seeking opportunities in growth markets", particularly in Auckland where it has 44 per cent of it units, he said.
Golden age
Metlifecare has the potential to build 238 new apartments:
* 121 at The Poynton, Takapuna
* 36 at Crestwood, New Lynn
* 30 at Greenwood Park and 27 at The Avenues in Tauranga
* 24 at Paraparaumu's Coastal Villas.
Source: Metlifecare Investor presentation, March 2012