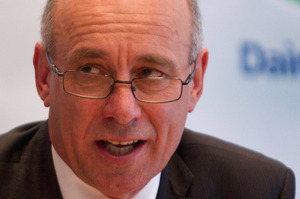 Highly favourable weather helped drive Fonterra's production up 10 per cent, more than offsetting weaker product prices and helping raise its net profit by 18 per cent to $346 million in the first half, the dairy giant said yesterday.
Fonterra raised its dividend to 12c from 8c, reflecting its improved profit but also a change in dividend policy, and confirmed that its forecast payout range for 2011/12 was $6.75 to $6.85 per kg of milk solids, down from last year's $8.25 record.
Citing a rising kiwi dollar, falling global commodity prices and more production by Northern Hemisphere rivals, Fonterra signalled the payout cut this month.
The payout range is based on a forecast farmgate milk price of $6.35 per kg and a net profit-after-tax range of $570 million to $720 million, compared with last year's farmgate price of $7.60 per kg and annual net profit of $771 million.
Chairman Sir Henry van der Heyden said Fonterra performed well, given global market turmoil. "Good spring and early summer conditions in most of the country led to strong growth in dairy production and record volumes."
Milk collections for the season to date were up 10 per cent on the same period in 2011, flowing into record production which saw a new export volume record in December, van der Heyden said.
International dairy prices softened after last year's highs but were fairly stable in the first half, supported by strong demand for quality product in emerging markets in several Asian economies, Brazil and China, offsetting economic uncertainty in Europe.
Van der Heyden said prices were very similar to those in the first half of the previous year, before spiking up towards the end of the financial year. But the past six months had its fair share of disruptions - a Canterbury snowstorm, a break in the Maui gas pipeline, and Northland floods all gave the company some anguish.
Chief executive Theo Spierings said milk production overseas was increasing. "There's ... softening of prices because of greater produc-tion around the world. The supply side is growing, but the demand side is going much faster," he said.
Fonterra's standard and premium ingredients businesses had a strong first half, with a 10 per cent lift in revenue to $8 billion achieved from higher sales volumes, and a 10 per cent increase in average US dollar sale prices.
Consumer business results were mixed, our high dollar affecting returns from Asia/Africa, Middle East and Latin America.
The Australia-New Zealand consumer business felt pricing pressure which reduced earnings.
Spierings said the company's "group strategy refresh" for the next decade focused on geographies and products that would deliver the best growth opportunities.
Fonterra's gearing ratio, up at 59.6 per cent by the end of the global financial crisis, dropped to 46.9 per cent from 48.5 per cent in the previous corresponding period.
Fonterra
Six months to January 31
Revenue: $10.03b (+7pc)
Profit after tax: $346m (+18pc)
Dividend: 12c per share (+50pc)
Gearing: 46.9pc (-3pc)

- APNZ