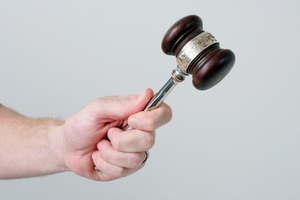 A judge will decide whether all out-of-pocket Nathans Finance investors or just a specific group are to share more than $1 million in reparations from the failed company's directors.
Nathans Finance went into receivership in 2007 owing about $174 million to 7000 investors.
Three former Nathans' directors - Kenneth (Roger) Moses, Mervyn Doolan and Donald Young - were found guilty of making untrue statements in the company's registered prospectus and investment statement dated December 13, 2006.
Moses was sentenced to two years and two months' jail and ordered to pay $425,000 in reparations. Doolan was sentenced to two years and four months' jail and ordered to pay $150,000.
Young was sentenced to nine months' home detention plus 300 hours of community work and reparations of $310,000.
Another former Nathans' director, John Hotchin - who pleaded guilty to Securities Act charges and gave evidence in the Crown's case - was sentenced to 11 months' home detention, 200 hours' community work and ordered to pay $200,000 in reparations.
Lawyers for the Crown and three of the directors held a chambers conference with Justice Paul Heath yesterday to discuss issues around payment of reparations.
The court has to determine if the reparations should be distributed only to investors who put money into the company between the registration of the offending prospectus and receivership, a spokesman for the Financial Markets Authority said. "The alternative is that it could go to the receivers and basically be part of the fund available to all investors."
Nathans Finance's secured debenture investors have so far got back only 3.7c in the dollar.