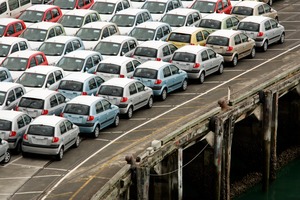 The easy to find, cheap but sturdy Japanese import could soon be a thing of the past.
Kiwi Car Carriers has announced it's stopping shipping cars here from Japan - one of only four companies that do so.
The number of cars being brought in has fallen dramatically since the introduction of tougher emission standards four years ago.
Imported Motor Vehicle Industry Association CEO David Vinsen says this outcome is exactly what he predicted.
"There's less choice for consumers, higher prices and it's going to mean increasing pressure on those services and businesses who provide service to the trade," he told Newstalk ZB's Mike Hosking.
Mr Vinsen says an estimated 94,000 imports last year will reduce to around 60,000 this year.
Motor Trade Association spokesman Ian Stronach says while it doesn't spell the end of all Japanese cars coming here, it's a considerable dent.
"It's at a significantly lower level than it was from its heyday, less than half so from 150,000 it might be 50,000 this year, that's what the predictions are."
He says it's already hitting people in the pocket.
"What we're seeing a firming of prices so used cars, both the one that you own at the moment that you're going to trade is increasing in value, the one that you're going to buy has gone up in price and the number of them available is certainly a lot less."
Mr Stronach says this was predicted to happen by the motor industry and expects other shipping companies to follow Kiwi Car Carriers' lead.
Dog and Lemon Guide editor Clive Matthew-Wilson says the end result is higher prices.
"A Toyota Corolla that might've gone for $500 at the bottom end of the market five years ago will probably go for $1,500 now simply because the supply of cheap Japanese imports has dried up."
Mr Matthew-Wilson believes this will lead to people hanging on to old vehicles, putting more unwarranted cars on the roads.