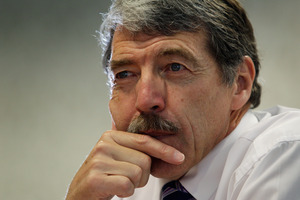 Favourable weather in the North Island helped to drive Mighty River Power's "underlying" earnings up by 14 per cent in its first half, enabling the soon-to-be-privatised company to raise its earnings forecast for the full year.
Mighty River yesterday reported an underlying after-tax net profit of $101.7 million for the six months to December 31, up from $89.4 million in the previous corresponding period, despite a fall in national power consumption.
The company's bottom line net profit was $17.6 million for the six months to December 31, down 81 per cent compared with the previous corresponding period.
Mighty River said the fall was the result of non-cash "marked to market" movements in the value of its derivative financial instruments during the half-year, caused by the global fall in long-term wholesale interest rates.
The company's underlying profit figure removed these effects, and significant one-off items.
Mighty River's earnings before net interest expense, income tax, depreciation, amortisation and financial instruments (ebitdaf) came to $254.5 million, up 9 per cent compared with the same six-month period in 2010.
This increase was driven by a 4.5 per cent increase in the weighted average price received from residential and commercial customers during the period, and a $7 million one-off gain from the sale of carbon credits.
Mighty River said that based on the company's interim results and a strong start to its second half, its forecast ebitdaf for 2011/12 was now in a range of $460 million to $475 million, up from an earlier guidance of $430 million to $450 million.
The company announced an interim dividend of $74.8 million, up $10.1 million, or 16 per cent, on the previous corresponding period, and in line with the company's policy of paying out 75 per cent of its profit.
Matt Goodson, portfolio manager at BT Funds Management, said the company had benefited from the hydrology imbalance between the North and South Islands. "It has rained more in the North Island than it has in the South, and that's left them quite well placed," he said.
Mighty River will be the first state asset to be partially privatised under the Government's mixed ownership model, which will involve the state retaining a majority interest in a handful of state-owned energy companies and Air New Zealand. It is expected to come to the market in September.
Chairwoman Joan Withers told a news conference the company had entered a "pre-prospectus window", which meant that neither she, nor the company's executives, could comment on the sale process, or what it might mean for the company.
More than 90 per cent of Mighty River's annual production comes from hydro and geothermal renewable sources, supported by gas-fired generation. On the retail side, Mighty River owns Mercury Energy, among other brands.
Chief executive Doug Heffernan said the half-year reflected the benefits of geothermal, which is not dependent on the weather, complemented by relatively favourable hydrology in the Waikato catchment area relative to the South Island.
"These factors have enabled us to increase production in response to higher prices in the wholesale market," he said.
Withers and Heffernan spoke of geothermal power generation - which is responsible for 13 per cent of New Zealand's generation capacity - as being a "significant game changer" for the company.
Capital expenditure shot up by 99 per cent to $163.7 million in the six months, reflecting the start of the $466 million Ngatamariki geothermal project, near Taupo, which is due for completion next year.
Heffernan said Mighty River's 49.9 megawatt Hudson Ranch geothermal power project in California - one of the biggest geothermal projects constructed in the United States in several years - became commercial in January.