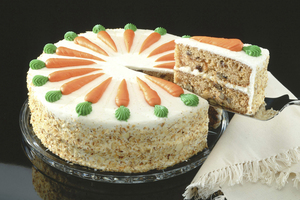 Two Auckland women are hoping their "natural" take on birthday cakes will grow into a big business.
Hannah Tegg and Barbara Denne are behind Naturally Bespoke Cakes, operating from a commercial kitchen in Glenfield, Auckland. They create cakes using natural and organic ingredients and colourings, and also cater for special dietary requirements.
They're trying to cater for what they believe is a growing trend in parents being picky about what goes into their food, particularly for their kids.
Tegg points to the debate overseas about claims some colourings can make kids hyperactive.
When asked if they are worried some might call them "the fun police", the two laughed. Tegg says their cakes are better than some competitors' cakes, which are "filled with processed nasties", and theirs are "really tasty".
"I think people are more aware of what they eat and put into their bodies.
We reckon the business will catch on," says Tegg.
Denne adds: "We distinguished a lack of companies focusing on providing healthy and fun-tastic party food, especially because additive-laden processed foods at the party table is standard fare at most events."
They say the only downside is some of the colours used appear in pastel shades as they are derived from fruits and vegetables.
The idea for the business was born out of a passion for baking. They met four years ago when Tegg was then an administration worker and Denne led a team in sales and customer service work.
They connected over motherhood - they both have two youngsters each - and a passion for healthier food options.
They have armed themselves with Wilton cake-decorating skills and have whipped up designs, including teddy bears and giant rugby balls.
The business will remain Auckland-based for now. They trialled delivering cakes out of the city but they arrived at their destinations "slightly shaken", says Tegg.
Their partners are glad they are past the taste-testing stage. They loved eating all their delights but if it had gone on much longer it would probably have affected their waistlines, says Denne.