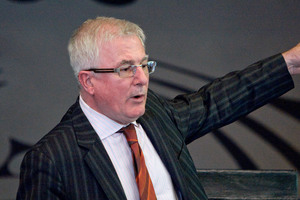 Trade Minister Tim Groser continues his travel from China to Malaysia today to support a business delegation and to discuss trade issues with his Malaysian counterpart.

Mr Groser will meet the Malaysian Minister for International Trade and Industry, Datuk Mustapa Mohamed, to discuss the next phase of Trans Pacific Partnership (TPP) negotiations and other initiatives to strengthen trade ties.

While in Kuala Lumpur Mr Groser will also join a 12-strong trade delegation led by Export New Zealand Chairman Sir Ken Stevens, and supported by the ASEAN NZ Combined Business Council. Mr Groser will visit branches of New Zealand companies operating in Malaysia and attend some joint meetings with these companies and their Malaysian customers or business partners.

Malaysia is New Zealand's second largest trading partner in the ten country ASEAN (Association of Southeast Asian Nations), and is our 9th largest export market and 7th largest source of imports worldwide.