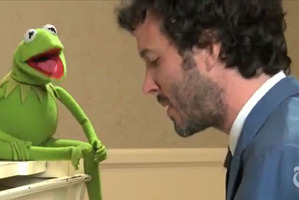 US investment bank Goldman Sachs may have been the original inspiration for Kiwi Brett McKenzie's Oscar-winning ditty Man or Muppet, according to documents supplied exclusively to the New Zealand Herald.
It is understood Academy Award winner McKenzie, half of musical comedy duo Flight of the Conchords, titled the song Goldman or Muppet in an early draft.
US investment bank Goldman Sachs is currently investigating the source of controversial muppet claims contained in a former executive's resignation letter.
According to a source close to Kermit the Frog, the song's lyrics were amended after Muppet producers came under pressure from Goldman's legal department.
The lyrics in final Academy Award-winning version hinge instead on the characters' human-puppet identity confusion.
However, the New Zealand Herald has obtained an exclusive copy of the original lyrics that allegedly puts to music a CDO deal between Goldman executive Gary and hapless muppet Walter.
Goldman or muppet
Gary: I trade on my tradition
but sometimes I ask myself the question
what's the right derivative to sell
just as well
I am a goldman and not a muppet
if I was the muppet then you'd be the goldman
but I'm not the muppet and you're not the goldman
because I'm a goldman that makes you a client of a goldman
Walter: I sign on the bottom line
and hope our interests are aligned
you say this product
could never turn toxic
I give you my cheque
because you are goldman and I'm just a muppet
if I'm not a muppet then I'd be a goldman
but you're not a muppet and I'm not a goldman
so that makes me a client of a goldman
Gary: here we go again
he's made up his mind
the muppet's already signed
Both: now I understand who I am
Gary: I'm a goldman
Walter: I'm a muppet
Walter: I'm a muppet of a goldman
Gary: I'm a very wealthy man
Both: this is what I am