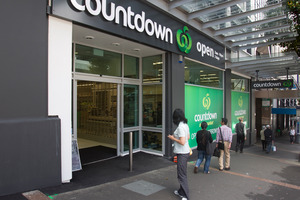 Think twice next time you buy discounted beer - the Commerce Commission has slapped a warning on Progressive Enterprises over misleading promotions, and alleges the supermarket company breached the Fair Trading Act.
In late 2010 and early 2011, the company claimed in widespread advertising that consumers could save "at least 20 per cent" or "at least 25 per cent" off all beer at its Countown, Foodtown and Woolworths supermarkets.
According to the commission, consumers would reasonably have expected that discount to be calculated from the beer's usual price, or the price of the beer immediately before the promotion.
But the advertised discounts were in fact coming off Progressive's "standard shelf price", in many cases leading to a smaller discount than advertised.
In a number of cases, it had been some time since the beer had been offered at the standard shelf price. A 12 pack of NZ Pure was advertised as 20 per cent off, but had not been sold at the standard shelf price or close to it for eight months.
A 15 pack of Steinlager Classic was advertised with "at least 20 per cent off" - but in some of the Progessive supermarkets, it had been more than six months since it had been sold at the standard shelf price of $31.68.
"When a retailer uses misleading techniques to lure customers in, or to make a sale, they not only dupe the customers, but also harm their competitors who are acting honestly," said Commerce Commission General Manager of Competition Kate Morrison.
"We believe that this practice breaches the Fair Trading Act. The Comission considers it misleading to use a standard shelf price as the basis for a saving claim when that price has not been displayed or charged for lengthy periods of time."
Progressive confirmed the discounts were from their "standard shelf price".
Progressive Enterprises general manager of marketing Bridget Lamont said the company did not set out to mislead customers.
"Progressive Enterprises has worked closely with the Commerce Commission over the last year to ensure all advertising and promotions of beer sales in its stores comply with the Fair Trading Act."
She said Progessive had cooperated with the commission's investigation, and changed their advertising and promotional material when made aware its concerns. They would continue to cooperate.
The commission said a warning was enough in this case and would not take further action because the practice is reasonably widespread.
- APNZ