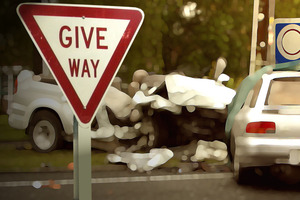 Insurance companies are warning drivers to be extra careful on the roads as the new give-way rules come into play.
Motor insurance customers will not be given any extra consideration if they are confused about the changes and subsequently cause a crash.
Head of corporate affairs at AA Insurance Suzanne Wolton said it was important customers obey the new rules, because "if you are at fault, then you will be one paying the excess."
Tower insurance spokesperson Karyn Fenton-Ellis said the company would be "sticking to the law as it stands."
Neither Tower or AA Insurance had assigned extra staff to possible claims that arose from the changes, which come into force at 5am on Sunday.
Under the new rules, right-turning drivers no longer have right of way. Drivers turning right into uncontrolled intersections from "terminating" roads will also be required to give way to those crossing their paths from the left.
Chief executive of the Insurance Council of New Zealand Chris Ryan said it was reasonable to expect more claims as a result of the changes.
"We are asking people to be extra careful. But as people are pretty confused about the current rules, overall, we are expecting a good response to the changes."