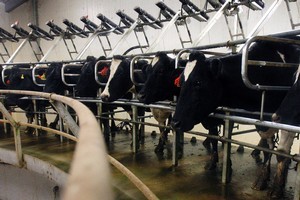 International dairy prices fell again in Fonterra's online auction, just a week after the dairy giant sliced about $200 million off its forecast payout to farmers.
The average price for a basket of products in Fonterra's latest online auction dropped 4.5 per cent - and has fallen in five of the six fortnightly auctions this year.
BNZ economist Doug Steel said the drop was meaningful and genuine.
"Genuine in the sense that it wasn't driven by a stronger US dollar or movement in the kiwi, both currencies are around about where they were last auction so it's a genuine fall in the price of the product," Steel said.
"And also meaningful in the sense that prices have been in a relatively tight 5 per cent range since August so it's now broken the bottom of that range, which is meaningful in the sense that it's a bit more out of stabilising mode to more of a genuine down trend."
Fonterra on Monday last week dropped its forecast payout for the 2011/12 season by 15c to $6.75-$6.85, which if production was to rise by 7 per cent could be a drop of about $216 million, with a total payout of about $9.9 billion.
Fonterra chief executive Theo Spierings last week said dairy commodity prices were likely to remain under some pressure through to the middle of the year and trends indicated stronger global production continuing this year.
International milk powder demand, however, appeared robust which should help offset the impact of the stronger milk supply growth, Spierings said.
Fonterra's forecast payout is still higher than the average of $6.50 for the previous five seasons.
Steel said whether dairy prices continued to drop was the "million dollar question" and the hardest to answer.
Milk powder prices were not "off that much", he said.
The price index in the auction for whole milk powder and skim-milk powder were down by 2.6 per cent and 2 per cent respectively.
"It confirms the anecdote that we're seeing in softer demand and at the same time the strong surge in milk supply," he said.
"Certainly the milk supply angle is unlikely to change in the next few months so [there will be] more downward pressure from that," he said.
"The question mark though is how much can the world bounce back from its recent bout of volatility, or uncertainty, and there is a bit of hope on that horizon, certainly the European situation in the last couple of months has improved a little bit with a lot of support form the European Central Bank."
ANZ rural economist Con Williams said: "Really it's that supply story rather than demand story which has seen the prices soften."
The 4.5 per cent drop at the auction was probably well above most people's expectations, Williams said.
"Perhaps it will be interesting to see if we get some of that back at the next auction," he said.
The auction saw good volumes offered and sold, which were probably double or more the amount normally sold at this time of year, he said.
International dairy prices could weaken more given the production trends "but underlying demand [is] still pretty strong".
NZX Agrifax dairy analyst Susan Kilsby expected milk production this season in New Zealand to be up by 9 per cent.
There was quite strong supply out of the Northern Hemisphere, Australia and Argentina, Kilsby said.
International dairy prices could fall a little more but were expected to pick up in about the third quarter of this year, Kilsby said.
"[It's] a good season for dairy farmers, a good season for New Zealand."
Fonterra general manager for milk powders and cream David Brewer said prices were still healthy compared to a five or 10-year average. "The turning point in my view will be very dependent on when the production is less than the consumption," he said.