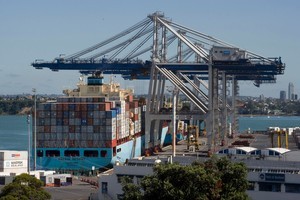 New Zealand's current-account deficit narrowed more than expected in the fourth quarter, reflecting record exports of dairy products and lower dividends paid to overseas investors.
The current account gap was $2.03 billion, seasonally adjusted, in the three months ended December 31, from a gap of $2.79 billion three months earlier, according to Statistics New Zealand. The annual gap shrank to $8.3 billion, or 4 per cent of gross domestic product, from $8.8 billion, or 4.3 per cent of GDP three months earlier.
A quarterly deficit of $2.75 billion and an annual gap of $8.16 billion were forecast, according to a Reuters survey.
Dairy farmers reaped the benefits of favourable weather in the final three months of 2011, allowing them to lift output at a time when the kiwi dollar was weak enough to mitigate the effects of global prices coming off their highs.
The outlook is likely to be more muted for the nation's biggest merchandise export, with Fonterra cutting its payout forecast for the current season and prices in the latest GlobalDairyTrade auction falling 4.5 per cent, the biggest drop in eight months.
"Although the goods balance remains firmly in positive territory for now, tougher conditions for exporters and softer commodity prices are likely to see this come under pressure in 2012," Westpac senior economist Anne Boniface said in her preview of today's figures.
The goods balance was a surplus of $1.066 billion in the fourth quarter, up $523 million from the third quarter. The value of dairy exports was at its highest level since the government statistician began tracking the series, it said today.
The services deficit fell by $84 million to $199 million, which was attributed to increased spending by overseas visitors. The impact of 133,200 visitors for the Rugby World Cup was captured in the fourth quarter because it is measured in the quarter they depart.
The nation's net international liabilities were $147 billion, or 71.9 per cent of GDP as at December 31, a $700 million increase from the end of the third quarter.
The government statistician said the economy recorded the first divestment of both assets and liabilities in the final quarter of 2011, made up of an $8.4 billion withdrawal of New Zealand investment overseas, partly offset by a $6.1 billion withdrawal of foreign investment from New Zealand. That resulted in a net inflow of $2.2 billion.
The main features of the withdrawal of foreign investment were maturing government bonds and reduced overseas debt by the banking sector.
The income deficit fell $138 million to $2.8 billion in the fourth quarter, mainly on lower earnings by foreign investors. Income from foreign investment fell $132 million to $4.25 billion in the quarter, with a $66 million reduction in dividends received and a $61 million fall in profit from local subsidiaries of foreign companies.