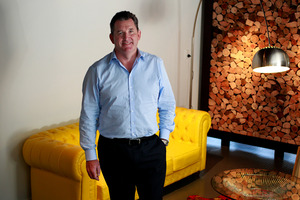 Marty O'Halloran says the Australian advertising industry thought he had rocks in his head when he moved back to Auckland to run DDB's transtasman operation.
For seven years O'Halloran has been chairman and CEO of DDB Australia and New Zealand, and for the past three and a half he has been based in Auckland.
He says his experience on both sides of the Tasman has boosted the agency and DDB is now the biggest in New Zealand, and the fastest growing across the Tasman.
O'Halloran recently marked 25 years with the agency, which last week was named the 2012 Fairfax AdMedia Supreme Agency of the Year.
The Australian's latest challenge is to guide DDB through the sudden departure of long-time creative boss Toby Talbot, who was replaced by Andy Fracknell.
Insiders say he is doing this with a smooth-as-silk style that makes him among Australasia's top account directors.
After taking over as head of the Australia and New Zealand operation, he spent three years working in Sydney. He came back in 2008, partly for personal reasons.
He promotes the idea of a transtasman ad agency - which several agencies have tried, including Publicis Mojo, Saatchi & Saatchi and newly expanded agency Draft FCB.
But DDB appears to have taken the notion most seriously.
O'Halloran says the pay-off is not just one way in terms of the logistics of the much bigger Australian ad market, there is benefit in Australia of using the"Kiwi way" of doing business.
Australian billings have trebled and O'Halloran says combined billings now exceed the total advertising spend in New Zealand. "At first a lot of people thought I was mad - Australia does not have New Zealand on their radar.
"Now they see the benefits of me being across both markets and have a greater respect for the New Zealand industry."
But he says there are threats to the New Zealand ad market.
The most alarming challenge for New Zealand is the shift of marketing departments of some international companies out of New Zealand to Australia and Asia.
He says brands which maintain control in this country do better.
"Brands that have control in New Zealand have the opportunity to succeed against the businesses that are controlled out of Australia."
The lower cost of advertising production was a positive but so, too, was the creativity in New Zealand.
McDonald's has been a case of point, with New Zealand playing a big role in transtasman commercials, some using voice-overs with a mid-Tasman accent, and some versions with Aussie or Kiwi twangs.
"It's time for New Zealand to aggressively start exporting their ideas," O'Halloran says.
He says that he is by nature an aggressive adman who flirts with the reputation of the Australian ad market.
Yet under his leadership, and with the creative input of Paul Catmur and Toby Talbot, DDB has developed a specific style in its advertising.
It is evident in ads for NZ Lotteries and Sky TV - clients who are willing to take risks.
"There is still a lot of confidence out there that marketing and advertising are required to build successful businesses," says O'Halloran, "and there is a lot more scrutiny from advertisers on how much they spend."