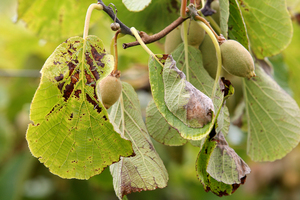 Kiwifruit exporter Zespri will decide tomorrow whether to make a wide-scale release of a gold fruit variety in its fightback against a bacterial disease that has wiped out millions of trays of fruit.
The Hort16A gold variety is being hit by a spreading bacterial disease called Pseudomonas syringae pv actinidiae (Psa), whose detection in 2010 sent a shockwave through the billion-dollar export industry.
By Wednesday last week, 1094 orchards had tested positive for a virulent strain of Psa, which was 33 per cent of all orchards.
Zespri said that due to Psa and seasonal factors the overall crop this year would be about 95 million trays, compared with a record harvest last year of about 115 million trays.
It was estimated that this year up to 20 million trays of gold Hort16A kiwifruit would be harvested, about 70 million trays of green kiwifruit, 3.5 million trays of organic and two million trays of newly commercialised varieties.
Zespri chief executive Lain Jager said the impact from Psa was nine to 10 million trays of gold Hort16A.
He said a decision would be made tomorrow whether there would be a wide-scale release of Gold3 licences to growers this year to begin the industry's recovery from Psa.
The Gold3 variety was commercialised in 2010 after a 10-year development programme and had shown good levels of Psa tolerance.
Jager said Zespri had been consulting across the industry for two weeks.
"Certainly we've had very good discussions with growers and we do expect to be making a positive announcement on Wednesday."
Zespri was hugely relieved Psa was not affecting green Hayward fruit to a significant extent.
"If indeed G3 delivers on its promise, and we will only be able to say that a couple of years down the track, then this will have been an extraordinary recovery by the New Zealand kiwifruit industry from what can only be described as a very severe biosecurity incursion," Jager said.
Zespri's general manager supply chain, Sally Gardiner, said this year Zespri would have up to one million trays of Gold3 "and it will allow us to continue to build the profile of this fruit with our customers around the world and also increase our understanding of the fruit's performance throughout the Zespri supply chain".
New Zealand Kiwifruit Growers president Neil Trebilco said for some growers it would be the first year without a crop.
"And for other growers they are facing the fact that once their vines have been picked they will likely have to be cut out and grafted across to a more Psa-tolerant variety.
"There are a couple of tough years ahead for the industry as it builds its pathway out of Psa, but we are confident we will emerge from the current challenging times in stronger shape."