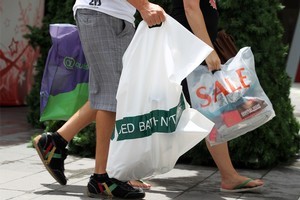 New Zealand consumer confidence rose in the first three months of the year, edging up after a fourth-quarter slump, though kiwis have become less optimistic about the outlook for the next five years.
The Westpac McDermott Miller Consumer Confidence Index rose 1.1 points to 102.4 in the latest quarter, having tumbled to 101.3 in the fourth quarter, which was the lowest since 2009.
The present conditions index gained 2.3 points to 98.5, still below the level of 100 that separates pessimists from optimists. The expected conditions index rose to 105 from 104.7.
The confidence survey comes after figures showed New Zealanders spent less on their credit and debit cards in February, and the monthly ANZ-Roy Morgan Consumer Confidence survey, out last week, showed confidence eased in March. In the fourth quarter, retail sales recorded an unexpectedly strong gain of 2.2 per cent, seasonally adjusted.
"While we've seen recent evidence of stronger retail spending, today's weak confidence numbers give pause for thought on how far this upturn in spending has to run," said Dominick Stephens, Westpac's chief economist. "Households continue to be concerned about the near-term economic outlook and downbeat about their financial situation."
The survey of 1,563 people was conducted between March 1 and March 11 and has a margin of error of 2.5 per cent.
It shows that 20 per cent of households say they are financially worse off than a year ago, unchanged from, December. On balance, 6.5 per cent expect to be better off in a year's time, up from 5 per cent in the fourth quarter survey.
Looking at the broader economy, 19 per cent of those polled expect bad times for the nation over the year ahead, an improvement on the fourth-quarter reading of a net 22 per cent. Those optimistic about the economy over the next five years dropped to 27 per cent from 31 per cent, the lowest level since mid-2008.
On balance 17 per cent of households said now is a good time to buy a major household item, up from 13 per cent in December.