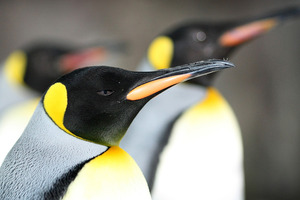 Kelly Tarlton's British owners are spending $5.5 million to expand the aquarium's viewing space and introduce new features.
The Auckland waterfront attraction's general manager, James Thomas, said the upgrade had been long overdue, with the last major improvement to the aquarium taking place in 2006.
British-based Merlin Entertainment Group took over the business in March last year.
"We have been talking about the redevelopment ... for a number of years, and Merlin were aware of this when they came on board," said Thomas.
Merlin owns a variety of tourist attractions including the London Eye, the Madame Tussauds chains and the Dubai Aquarium.
Thomas said Merlin's investment in Kelly Tarlton's was proving to be fantastic for the aquarium.
"It's really great to be owned by a company that understands and specialises in aquariums.
"They are a strange operation to run, requiring unique skills and constant maintenance."
Merlin took over Kelly Tarlton's from Australian company Village Roadshow in a deal which saw them acquire several Australian sea and wildlife attractions, including the Sydney Aquarium, Manly Oceanworld and the Hamilton Island Wildlife Park in Queensland.
Thomas said the entire Kelly Tarlton's facility would receive a "spruce up" with major changes at the penguin enclosure and Scott Camp area.
"There will be a new walk-through penguin experience where people will be able to get closer than ever before to the birds.
"The new Southern Oceans area will include a recreation of Scott Base that people can go through," said Thomas.
There would also be a new jellyfish exhibition, where visitors could view different types of local species.
Thomas hoped the changes would attract more visitors to the aquarium and enhance the experience.
"For example, the new penguin walk-through means people can spend as long as they like viewing the birds, something they can't do at the moment."
The renovations are expected to be finished by the end of September with the aquarium remaining open throughout.