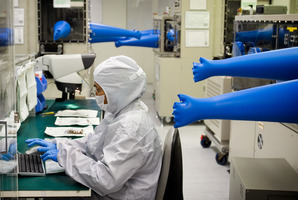 Productivity languished in the year to March 2011, with labour productivity slipping, the capital-to-labour ratio declining and multi-factor productivity unchanged.
Statistics New Zealand's productivity data cover around 80 per cent of the economy, the main exclusions being government services such as health, education and administration where output is hard to measure independently of inputs.
In the year to March 2011 the output of that "measured sector" rose 0.8 per cent - an improvement on the scant 0.1 per cent recorded on average over the five years to March 2011, which included the 2008/09 recession.
But in contrast to the two previous years in which it declined, the input of labour rose 0.9 per cent, outstripping the growth in output.
The result is that labour productivity, or output per hour worked, fell 0.1 per cent, after rising 3.5 per cent the previous year.
Over the five years of the current growth cycle it has averaged 0.5 per cent a year.
That compares with an average of 1.9 per cent a year over the past 33 years, mainly concentrated in the period from the mid-1980s to the late 1990s.
The latest year recorded a small decline in the amount of capital available per worker. Growth in the input of capital was the fifth lowest it has been since 1978, Statistics NZ said.
The 0.2 per cent decline in the capital-to-labour ratio was the first time it has been negative since 2003. Multifactor productivity was flat.
It reflects growth that cannot be attributed to increased inputs of labour or capital, and arises from such factors as technological change or improvements in knowledge, methods or processes.