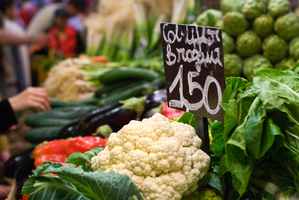 Giving customers produce at low prices "out of the kindness of her heart" has cost a woman $7743.
Susan Frost worked for Nelson family business Cullen's Fruit and Veg, in their Victory Fruit and Veg Shop, from August 2010 until January 2011, and told the Employment Relations Authority (ERA) she loved working there.
She worked an average of 20 hours a week but did not have set hours, instead being told each day when she would be needed for the following day. She believed she was a part-time employee, while the Cullen family believed she was a casual.
Ms Frost told the authority she did not receive any complaints or warnings about her work for the first five months but that on January 11 Brenton Cullen "berated her for the standard of her work and also made a comment that led Ms Frost to believe that he was accusing her of taking money from the till".
"Ms Frost states that later in that same afternoon, Jeffrey (Brenton's brother) told her that the shop had not been doing so well and that they needed to cut costs and so would call her if they needed her in the future."
She was never called again and treated January 11 as the day she was dismissed, and claimed that it was unjustifiable.
The Cullen family told the ERA they believed Ms Frost had been charging too little, or nothing, for produce, and that had caused losses to the business, which was why they had decided against using her any more.
"They say that no decision had been made on 11 January not to sue her services anymore but that Mr Cullen had formed that view the following day after Ms Frost had allegedly been yelling outside their shop, telling customers she had been sacked and urging them not to give the shop their custom."
ERA member David Appleton found Ms Frost was unjustifiably dismissed and awarded her three months' pay totalling $3324. He also awarded her $7000 for humiliation, loss of dignity and injury to her feelings.
However, he reduced the award by 75 per cent for her contribution to the situation, meaning she would receive only $2581.
"Whilst she may have been giving away produce belong to the respondent to customers at a very low price out of the kindness of her heart, she had no right to do so, and her actions are likely to have damaged the business of her employer," Mr Appleton said.
Neither the Cullens nor Ms Frost could be reached for comment.
- APNZ