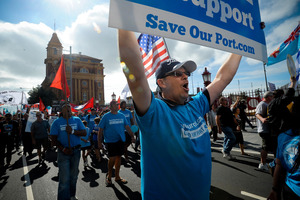 A target to nearly double the return on equity at Ports of Auckland, with labour flexibility a key strategy, is getting unfairly blamed for the dispute with staff, says Auckland Council Investments chief executive Gary Swift.
There was a lot of nonsense being talked about the realism of an annual 12 per cent return on equity - targeted by June 2016 - with some people saying it was not achievable, Swift said.
Four key strategies would raise the return on equity - increasing the revenue per container, labour flexibility, review of all operational processes and procedures, and no capital expenditure unless it achieved at least its weighted average cost of capital.
"The port did all the modelling based on the implementation of those strategies and that was the end result that they could get that [12 per cent] level of return at the end of five years," Swift said.
Between the years ending June 1999-2003 the return on equity was between 13.2 per cent and 17.8 per cent, although last year it was 6.3 per cent.
Under the establishing legislation, Auckland Council Investments - the council holding company that owns Ports of Auckland - was required to bring a commercial governance to assets, he said.
"If for instance the target had been 6 per cent ... I don't think we would have seen different strategies because our role is to maximise the value of these investments ... so why would we have been satisfied with just merely a 6 per cent return."
Maritime Union president Garry Parsloe said the 12 per cent return on equity target was a figure pulled out of nowhere.
"There isn't a terminal in the world that gets 12 per cent," Parsloe said.
"I don't mind how much they get but not on the backs and the misery of those workers.
"The port is there to service the city of Auckland. It creates employment, it creates work in factories ... and it returns so much money into Auckland ... it's returning 6.3 per cent, it's doing everything it should be doing."
Swift said one of the first things Auckland Council Investments looked at was the port's results and returns.
"We ... didn't think these returns were adequate so we made a number of new appointments to the board, as directors retired, of people that we thought could bring innovation and change to the way in which the company was operating."
The labour dispute was an operational matter for the port, Swift said.
"Obviously because of its seriousness we are taking a close interest in it but we're certainly not driving the strategy, we're not telling them what to do and how to act."
Auckland Council Investments had other investments to look after including a 22.4 per cent stake in Auckland Airport, a film studio in Waitakere and a diversified investment portfolio.
"We've got confidence that the Ports of Auckland board are going to deliver the [12 per cent return on equity] result that we're looking for."